A closer look at oak
This might seem like a science lesson but keep reading—there's a whiskey chaser.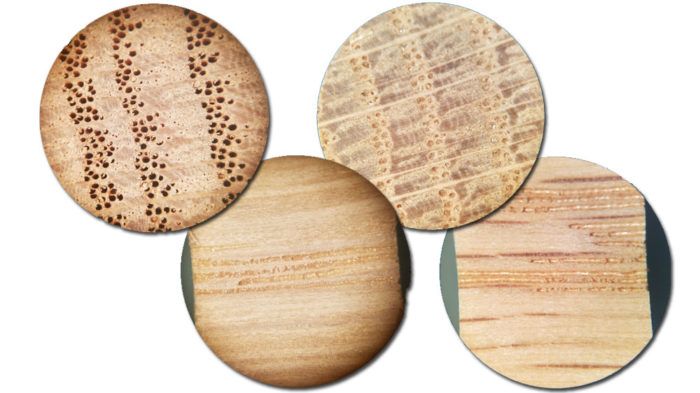 Most people never think about wood on the cellular level, but in one particular instance we owe quite a debt to the cellular structure of white oak.
The type of cell that makes white oak special is the parenchyma cell, which is largely responsible for storage of nutrients in living trees. In some species such as white oak, the parenchyma will grow a structure called "tyloses." These tyloses extend inside the xylem of white oak heartwood and are in fact one of the defining characteristics of this wood. When you look at the end grain of white oak, look into the open pores. They should appear "filled." That structure you see is the tyloses blocking the xylem. In nature these outgrowths help the growing tree retain nutrients in the heartwood by blocking the open path down the xylem to the soil. This helps keep the tree healthy in times of drought. It also makes the tree much more resistant to fungus and bacteria that would damage the tree by moving up the xylem into the inner portions of the heartwood.
If you examine samples of red oak and white oak under the microscope, it is easy to see the tyloses in the end grain of white oak, while the red oak sample is largely absent of tyloses. It is also possible to see the tyloses under magnification along the flatsawn surface of the board by examining an area that has been cut along the plane of the xylem.
| | |
| --- | --- |
| Flatsawn white oak @ 20x | |
The upshot of this evolutionary trait is twofold. First, as explained above, the tyloses play a large role in giving white oak its famous rot resistance by forming a physical barrier to bacteria and fungi moving up through the heartwood.
The second benefit is not just to us woodworkers but to the entire world. Tyloses are the mechanism that keeps whiskey in the barrel! Without tyloses, white oak whiskey barrels would never be tight enough to retain their whiskey, and it would run right out onto the floor of the barrel house through the open xylems. This is great news for us, because much of the flavor of whiskey does not come from the distilling process but rather from the time spent in the barrel. During this time the seasonal movement of the wood forces the young whiskey to flow through the wood, dissolving many of the sugars and nutrients that the tree had collected during its years of life. Of course some whiskey does leak through the wood, but the tyloses in white oak allow just enough interaction between the wood and the whiskey to give us the rich complex taste of white oak whenever we enjoy a dram.
Perhaps this is why I enjoy whiskey so much—it really is just the best parts of white oak extracted and put into a glass.
---
| | |
| --- | --- |
| | |
| | |
| | |