'I'm mostly a woodworker'
Reflections on a long career from the man who brought Gorilla Glue to North America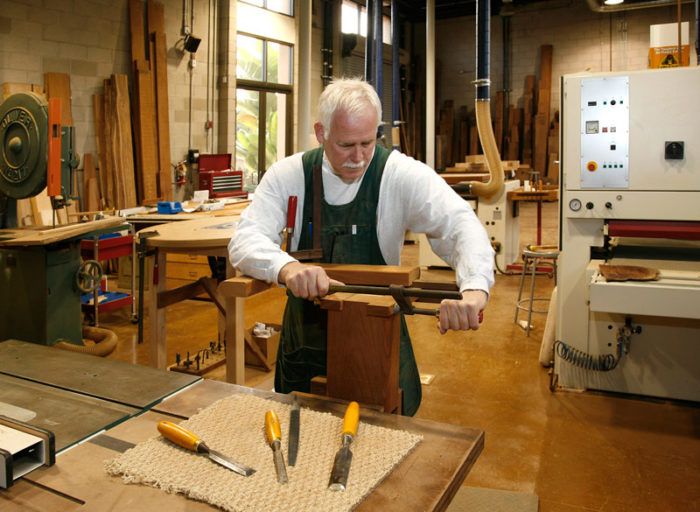 Mark Singer wrote Heartwood originally as a portfolio of his work, but it gradually grew to become a memoir for his children and others. As he explains in his From the Bench column in issue #286, he's been a woodworker for most of his life, and the craft shaped him. Among other things he worked for Sam Maloof, was a Journeyman carpenter, supervised the Design Workshop at Harvard University, successfully marketed his furniture designs in Japan, and is the founder of Giati Designs in California and the person who introduced Gorilla Glue in North America. Here are a few excerpts from his memoir.
People meeting for the first time usually ask each other, "What do you do for a living?" Then they want to know how that came about. My answer to this question is easy: I design and make furniture. I'm mostly a woodworker.
My father was an amateur woodworker. He made violins as a hobby and had a small workshop in our basement. I started handling wood at a young age and never stopped. Throughout my childhood, woodworking and sports were the only activities I was reasonably good at—I could lose myself in them.
***
The design and making of furniture can be exhilarating, frustrating, maddening … and quite often tedious. Successful completion of a piece takes patience, discipline, technical proficiency, and an ability to visualize the finished project. That's a lot to ask of anyone.
Sometimes, the beauty of the material is enough to sustain you. When that's not enough, music, focus, and a good mantra can get you through the journey…
Practice, patience, proper tools, good lighting, reading glasses, and technique are all really helpful. I try not to think about how much more is left to do and how much more time it is going to take me. Doing so, for me, is usually counterproductive.
I focus upon the sight, smell, and texture of the wood, physically feel what I am doing and let the process take me into the moment. Work with the wood—not against it. A friendly chisel becomes an extension of your hand. The wood becomes an extension of your mind. When this happens, time passes and the work gets done.
Results are part, but not all, of the reward.
***
In late 1989 and early 1990, while visiting a furniture factory in Bandung, Indonesia, I noticed they were using a type of glue unfamiliar to me. It was a moisture-cured polyurethane made by a German company. I tested some while at the factory and wasn't impressed. A year or so later at a factory outside Surabaya, Indonesia, I again came across the same type of adhesive made by a small Danish firm … but this glue was incredible. As a woodworker, I was blown away! The factory gave me a couple of bottles for additional testing in my workshop back home. They wanted to use the glue when making furniture for Giati. The stuff was amazing. Not only did it work on teak, which is problematic to glue, it was waterproof and also worked on stone, metal, ceramics, plastics, and more.
The "miracle glue" I had found wasn't available in the United States. Few people at home even knew about it. I asked the Managing Director of the Indonesian factory if I could contact the Danish firm with the intention of acquiring the rights to the product for North America. He had no problem with the idea, and the Danish company was interested. At the time, epoxies were being heavily regulated in parts of Europe due to their toxicity. Moisture-cured urethane was being developed to replace epoxy in many uses because it was solvent free, non-toxic, environmentally friendly, and out-gassed no carcinogens before, during or after curing.
The adhesives industry considers most woodworking glue a commodity, and therefore prices it as inexpensively as possible. As a woodworker, I knew a few things about glue and really didn't care if the glue I used in a project cost five cents, fifty cents, or five dollars. I wasn't in high production, where every penny mattered. If you spend dozens or hundreds of hours on a project and have hundreds of dollars invested in wood, the cost of glue isn't an issue. What matters to the woodworker is that the product be very strong, non-thermoplastic, have a good open working time, reasonable cure time, doesn't dull cutting tools or clog sandpaper, be stainable, easy to clean up when cured, and versatile. I knew this stuff I had stumbled across was all of those things and more. I also estimated there were about fifteen million amateur woodworkers in North America who were looking for the same thing that I was looking for … a glue that works really really well.
I acquired the rights and asked the manufacturer to make some minor changes to the product. Next, came the tough stuff … how to name, package, market, distribute and organize the business.
…
Woodworking had taught me a lot about glue. This particular glue was going to teach me a lot more about logistics and life. But first, my product needed a name.
Choosing that name took me back to my youth. When I was a kid, I would spend hours at the zoo looking at the great silverback. More than anything else, something in the eyes of those gorillas captivated me. The memory of those interactions never left me.
Later in life, I learned that in many ways gorillas are better than humans. For instance, they live in harmony with nature and their environment. They don't take more than they need. Although enormously powerful, they are gentle herbivores and as a rule don't kill each other or other animals. With all of this in mind, I wanted to create a strong, handsome, sexy and somewhat mysterious gorilla for my logo. It seems to have worked out.
…
As a small token of thanks, both to gorillas and good fortune, I donated a portion of every sale to the Dian Fossey Gorilla Fund, The Gorilla Foundation, and the Gorilla Exhibit at the Santa Barbara Zoo.
***
Woodworking had taken me wonderful and unexpected places. Ironically, one consequence of the journey I found myself on through the establishment of my own businesses was this: I was spending significantly less time making art furniture. There is joy in doing something you love just for the sake of doing it. I had known the sense of wonder, fulfillment, and satisfaction that comes from working a piece of wood, creating something from "nothing," and showcasing the organic beauty of nature's handiwork.
But I was no longer experiencing that joy … at least not to the extent I wanted. I often talk about living to do what you love, but at that point in my life, I wasn't really following my own advice. My journey had taken me to a place where I could easily spend more time pursuing my passion. To not do so would not only be stupid, it would also be hypocritical.
So, a good number of years ago, I sold the Gorilla Glue business to a wonderful family in Cincinnati. Through hard work, dedication, and creativity, the Ragland family has grown The Gorilla Glue Company nearly one hundred-fold, and we have all shared in their success.
Heartwood: Lessons Learned During a Lifetime Working with Wood, was self-published by Mark Singer in 2013. Copyright 2013 by Mark Singer. All rights reserved. Photos courtesy of Mark Singer.