Tool Review: Leigh TD330 dovetail jig
The Leigh TD330 delivers gap-free through dovetails at an affordable price.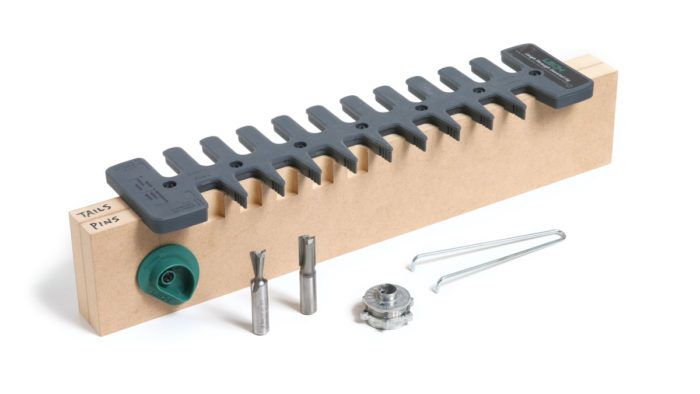 Dovetail jig by Leigh, Model TD330, $100
For foolproof repeatability and guaranteed results on dovetails of all types, Leigh offers a range of high-end jigs. While these designs deliver variable spacing and narrow pins, they don't come cheap. For woodworkers who are happy with basic through-dovetails, Leigh has cooked up the TD330, a more straightforward jig that sells for a fraction of the price of Leigh's costlier models.
Simplifying a dovetail jig involves compromises—the TD330 only does through-dovetails with fixed spacing—but joint fit isn't sacrificed. The template is tough and precise, the dovetailing is quick and easy, and the excellent instruction booklet leaves nothing to chance. It works on boards up to 12-7⁄8 in. wide and from 1⁄8 in. to 13⁄16 in. thick.
By design, this jig requires a bit of DIY before you start. The kit to ready the jig for use includes the tough, accurate template, adjustable side stops, two excellent router bits, and Leigh's clever guide bushing, which pivots to change the joint fit. It's up to you to make a straight beam from MDF and mount the hardware on it accurately. The template has ridges on the underside to make this easy.
Also by design, the sacrificial beam eliminates blowout on workpieces, so you'll have to remake it occasionally for different setups. It works both with a handheld router and on a router table.
Adjustments made easy
Fixed spacing. The TD330 creates through-dovetails only, with fixed spacing, meaning you'll need to stick to a range of specific board widths to get neat half-pins on the ends.
Router table, too. The jig works with a handheld router, but if you add little handles to the beam for control, you can flip it onto the router table for even easier use.
Clever bushing allows easy adjustment. Leigh's patented router bushing is slightly elliptical, so you start it at the 5 mark on a sample joint and then adjust it to dial in the fit if need be.
—Asa Christiana is a woodworker and freelance writer in Portland, Ore.
Photos: Asa Christiana
From Fine Woodworking #285
---