Gallery: Campus trees get new life
See how a group of creative woodworkers helped some old trees live on at SUNY Brockport.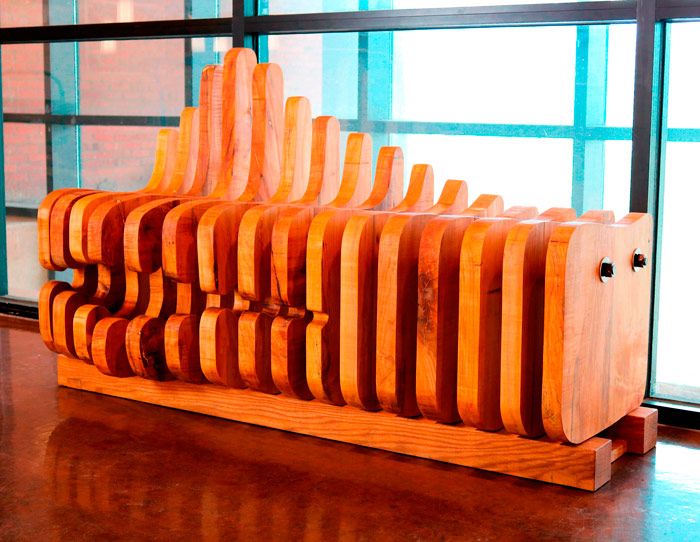 Soon to be sprinkled around the campus at SUNY Brockport in upstate New York are benches that used to be trees. So what, you say. Nearly everything we make and write about here at Fine Woodworking used to be trees.
But these weren't just any old trees. These fine specimens of maple, elm, and oak had been part of the campus scenery for years. They were being removed to make way for a multipurpose community garden behind the college's Alumni House.
When he saw the trees marked for removal, Professor Jason Dauenhauer wanted to see if something could be done to give them new life. So he reached out to the campus-wide Art Placement Committee, chaired by Professor Jennifer Hecker. Together, they got a grant to commission artists to turn lumber from the trees into benches, to be installed across the campus. Some 20 artists submitted proposals for the benches, and seven were chosen.
We contacted each of the woodworkers involved in the project because we wanted to feature them in our print magazine's gallery. But as usual, we received more photos and more information than it was possible to use in the print version of the magazine. So here's an expanded view of the benches and their makers.
Michael Puryear
"The design was in one sketchbook which I have always liked and I thought would work well in a public space," says Michael, a furniture maker in Shokan, N.Y. "I call it the Wave Bench because the saddling of the seat is wavelike and the structure of the legs reminds me of ocean piers built to withstand strong waves." Michael says he's happy with the hand-shaped legs and enjoyed the structural challenge that the project presented.
John Dodd
John, a furniture maker in Canandaigua, N.Y., frequently incorporates cast concrete with wood in his benches, which can be found at public spaces around the region. This one used wood from an elm tree on campus. He finished the bench with Clear Oil base coat and sealed with a satin gel varnish. "It was an honor and pleasure to participate in this and all those that made it happen at The College at Brockport deserve a lot of credit for their effort," he says.
Chara Dow
Chara, a rustic furniture artist in East Rochester, N.Y., loves the asymmetrical lines of tree limbs, so she gave her bench a multitude of legs made from yew branches collected from the side of the road. She made the sculpted and chiseled seat from the campus tree. Here's a video of Chara talking about her bench.
David Bohnhoff
David, a furniture maker in Columbia, Va., looked to the lift bridges on the Erie Canal, which runs right through Brockport, for his inspiration. He finished the bench with Arm-R-Seal and milk paint. This is the second bench that David has made for the college; he did one for a similar bench project in 2013. He's also made a chair for the dean's office. In addition to furniture David is also an experienced boat builder.
Seema Lisa Pandya
"My bench for the College of Brockport is an expansion of my existing 'Amoebic Void' series of sculptures that are inspired by an exploration of boundaries and the forms between negative and positive space," says Seema, an artist in Brooklyn, N.Y. "The literal translation of my name, 'Seema', in Hindi translates to the word 'boundary,' which has led me on a journey of inquiry exploring the nature of what a boundary actually is, evidence of a relationship and exchange. "
"The sculpture series and this bench design is comprised of multiple planes stacked and spaced apart from one another with progressive growing organic curved forms carved out of the planes to imply movement or music and forms found in nature. The curved void forms that appear like a mouth opening at the base of the bench are inspired by principals of nature and the shape of relationships and exchange with curves that engage in a push-pull balance of negative and positive space, indicative of the push-pull form found in sine waves. "
"The sheer amount of work it took to get it from design bench to the finished product makes me proud of the beauty of the final piece and my ability to follow through and manifest this. I started designing the project with sketches that were than taken in to the Rhino vector graphic program to finalize and adjust by visualizing in 3-d modeling view. Next, this was the process of planing 35 planks of 2-in.-thick wood again that had  warped over time after they were already kiln dried and planed prior to my possession. I also restored a gifted vintage 1950's Sears Montgomery Ward Powr-Kraft bandsaw for this project to cut each of the bench slices. Then, it was routing the edges with a large 2.5-in. scary flush router bit, lots of sanding, assembling, and then the thrill of applying the final finish."
B.R. Delaney
Looking for a balance between function, quality, and beauty, B.R. juxtaposed a solid steel base with the warm maple top in this design. "Aside from working with sustainably harvested lumber from the SUNY campus, I am proud of how cleanly this bench fits into my evolving design aesthetic," the Wurtsboro, N.Y., furniture maker said. "My goal was to create a bench that presented the material in an honorable way, while providing a comfortable, stable surface for repose. By juxtaposing the warm, nature feel of the maple top with the solid steel base, mirroring the shapes, and angling them outward, I hoped to create balance and interest within the form."
Laura Smith
This bench, made from stacks of maple planks carved to mimic land formations created by wind and water, was inspired by Laura's time in Colorado and Arizona's painted desert.
"I enjoyed creating and working with natural stains," the Pine Island, N.Y., artist said. "The method of finishing corresponded to the mentality of repurposing behind the project. The wood was stained with black and herbal tea, as well as a dye created from the skin of red and yellow onion skins which lent a rich purple and a yellowish-golden-brown color to the maple."
For more on this project, go to this link.