Jeremy Tritchler: Free to explore history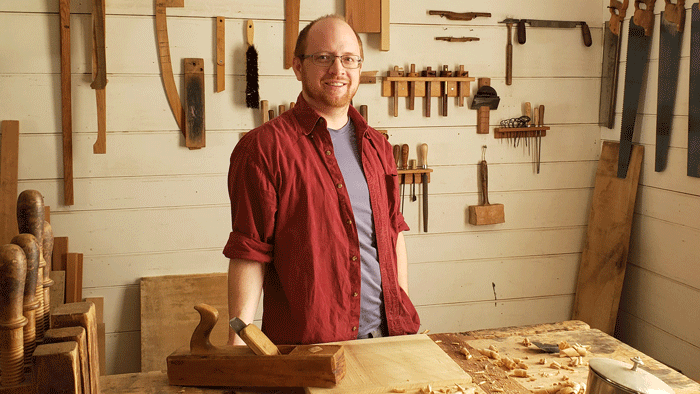 On a cold January day, just two weeks into his job in the Hay Cabinet Shop at Colonial Williamsburg, Jeremy Tritchler can't believe his luck. "I'm still in a euphoric state," he said. "It feels like I'm on an extended vacation—like I'm going to pack up my bags and go back to wherever home is."
Working at a massive workbench, in a wash of natural light from a nearby window, Tritchler now spends his days reproducing antique furniture made in tidewater Virginia in the 18th century, drawing from the deep institutional knowledge at the living-history museum, as well as the world-class archives and collections. "There aren't a lot of written records of woodworking techniques in the 18th century," he said. "We work closely with Colonial Williamsburg curators and tradespeople to help each other better understand how things may have been done."
Credit where credit is due
At 39, Tritchler has secured the woodworking job he'd like to retire from, and he has a list of people to thank. It starts with his wife, Shaun, a retired ballerina, who encouraged Jeremy to leave his career as a geologist to pursue his true passion, and convinced her bosses at an environmental consulting firm to let her work remotely in Virginia so that Jeremy could jump at a once-in-a-lifetime opportunity. The Hay Shop employs just three cabinetmakers and two harpsichord makers, passionate artisans who tend to stay on for decades.
Rolling the story back further, Tritchler is grateful to his dad, whose hammer, nails, and wood scraps he used to bang together simple boxes and toy cars in the garage. Next up is his grandfather, who helped young Jeremy build his first toolbox from an old ammo crate.
After college Tritchler landed a contract job as a geologist at a Utah copper mine, spending up to 10 hours a day examining drilled cores, used to explore potential tunneling directions. "Looking at 15 miles of core over four years, I was there going to work every day doing the same thing, with no end in sight," Tritchler said. "I had a strong desire to be creative. I wanted to see the beginning, middle, and end of a project."
Although unfulfilled in his work at the mine, Tritchler met his first fine woodworker there, a fellow geologist and longtime Fine Woodworking subscriber who retired and began pursuing his hobby in earnest. Working together with his friend, he learned a few basics and caught the bug, finding the sense of accomplishment he was missing. When his friend confided, "I wish I had started doing this 30 years ago," Tritchler took it to heart.
Soon after Tritchler was hired came the economic crash of 2008, which hit the mining business hard, ultimately leading to the end of his contract in 2012. It didn't seem lucky at the time, but it was the kick he needed to change directions.
| | |
| --- | --- |
| | "I like a good puzzle. There are constant challenges, but I like facing them and solving them." |
| | |
Unable to find another job as a geologist, he took one building laminated countertops and desktops. It wasn't fine woodworking, but it taught him about working in a professional workshop. "I worked with my hands every day, and felt the satisfaction of seeing a finished product," he said. "You know when it's good, and you know when you made a mistake. It's a rewarding feeling that's hard to describe."
When another friend invited Tritchler to join him as a handyman and remodeler, he took the offer, handling the finish work for his new partner, and then striking out on his own. On nights and weekends, he took woodworking classes at nearby Salt Lake Community College (SLCC), where he met the most influential figure in his journey, Fine Woodworking contributing editor Chris Gochnour.
One great teacher can change everything
In Gochnour's classes on the fundamentals of fine woodworking, Tritchler made his first real furniture joints and his first solid-wood project, a beautiful tool box. "It was my first time picking out nice lumber. When I got done and looked at it, when the oil and the hardware was on, I thought, "'Wow, this is really something to be proud of.'"
His wife agreed, saying the box was too beautiful for tools, and filling it with mementos and other treasured items.
Next Tritchler made a pair of sofa tables with his new teacher, and then a slant-top desk of his own design.
Aside from the hows and whys of the craft, Gochnour taught Tritchler that woodworking was a viable career. "Chris talked to us about why he became a woodworker," Tritchler said. "He was around 30 when he made furniture making as a career. He took the plunge and made it work. I was in my 30s then, deciding what I wanted to do with my life, and I was inspired to take the same chance."
During his second year in Gochnour's night classes, Tritchler's confidence got another boost in in the Skills USA cabinetmaking competition. After placing first at his community college and then first again at the state level, he headed to Lousiville, Ky., for the national competition, where secondary and college students arrived with a small list of personal tools, were given plans for a desk in the morning, and then allowed eight timed hours to build it, using a shared set of machines. Tritchler took the silver medal, another indication that he was following the right path.
It was right around that time that Tritchler told his teacher he wanted to make furniture making a career. Gochnour's first recommendation was to go to work for an established pro. When Tritchler explained that he wanted to speed up his learning curve, Gochnour recommended North Bennet Street School in Boston.
The journey continues at NBSS
Tritchler was accepted into the Cabinet & Furniture Making program in the fall of 2016, and made the most of his two years there. Knowing he wanted to work for someone else, not himself, he figured that productivity would be important. Doing more projects would also let him soak up more skills and info. So he pushed himself, completing 16 or 17 projects in the time some students complete five or six. Many were smaller projects, designed to teach him something new.
"I absolutely loved NBSS," he said. "They don't hand you all the knowledge. They give you enough instruction to point you in a direction, then they let you work it out yourself with trial and error—hands on. When you get hung up, they get you back on track."
"Their teaching style fit my learning style," he said. "You need to say here is the stuff I want to learn, and go after it. If you do that, you leave with a tremendous amount of knowledge."
His strategy worked. After graduating in 2018 he landed a job at a small cabinetry and millwork shop in Boston, which focused on commercial construction and remodeling. As "the custom guy for oddball jobs," Tritchler worked on kitchen cabinets, restaurant bars, and common areas in apartment complexes, dressing up one with big wall-hung shadow boxes for plant life.
Opportunity of a lifetime
Tritchler first caught wind of the rare opportunity at Williamsburg in an Instagram post by Hay shop supervisor Bill Pavlak. Tritchler was no stranger to the shop, having visited it two years earlier and spoken with apprentice cabinetmaker Brian Weldy, also an NBSS grad.
| | |
| --- | --- |
| "I absolutely loved NBSS. They don't hand you all the knowledge. They give you enough instruction to point you in a direction, then they let you work it out yourself with trial and error—hands on. When you get hung up, they get you back on track." | |
When the job opened up, Weldy suggested what Tritchler might highlight in his cover letter, and told his boss to look out for Tritchler's application. He was hired, his wife got approval to work remotely, and they moved with their young daughter to Williamsburg.
Although brand new in the job, Tritchler is surrounded with support from Colonial Williamsburg veterans with decades of institutional knowledge—on everything from working wood to working with guests. "The opportunities here are tremendous," he said. "The job lets me be creative and keep building on my skills and historical knowledge. I have access to amazing collections and talented people."
For Tritchler, the period focus and workshop realities—natural light, historical tools, and frequent guests—are both fun and fascinating. "I like a good puzzle," he said. "There are constant challenges, but I like facing them and solving them."