Tool review: Morakniv 162 and 164 Hook Knives
Dawson Moore takes a look at the much-anticipated update of two classic hook knives.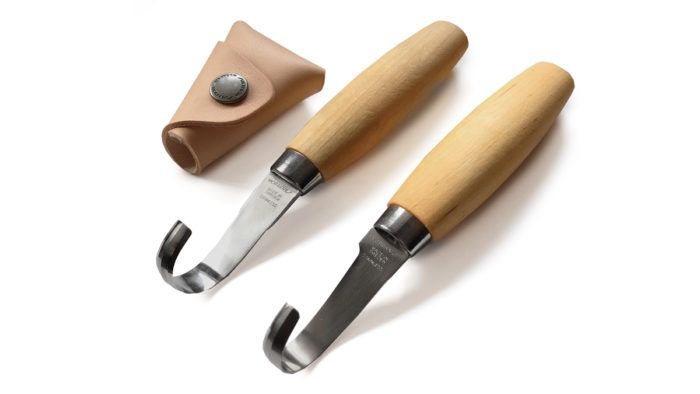 Thanks to small but important changes in blade profile, blade width, and edge geometry, Morakniv's updated 162 and 164 hook knives are a serious improvement to the company's older versions. And these updated models have earned a permanent spot in my tool roll.
The 164 is a nice general-purpose hook knife that can be used with a variety of grips. The 162 is double-edged, meaning it takes extra caution to use, but I find it perfect for excavating deep hollows in scoops, ladles, and cups. The new 162 can reach just a little deeper than its predecessor, and turns a tighter radius. The new knives also come with their own leather sheaths, a very welcome addition.
I recently tuned up 13 of these hook knives for spoon-carving courses. All but one made acceptable cuts right out of the box, and were improved to a polished edge in just a couple of minutes of stropping with honing compound. The one questionable edge had a small nick that sharpened out quickly. Most importantly, many of my students were able to intuitively carve nice hollows right away with these.
— Dawson Moore works green wood in Harbor Springs, Mich.
From Fine Woodworking #281