The making of an heirloom
When Joe O'Sullivan set out to make a dining table for his neighbors, the whole family got involved.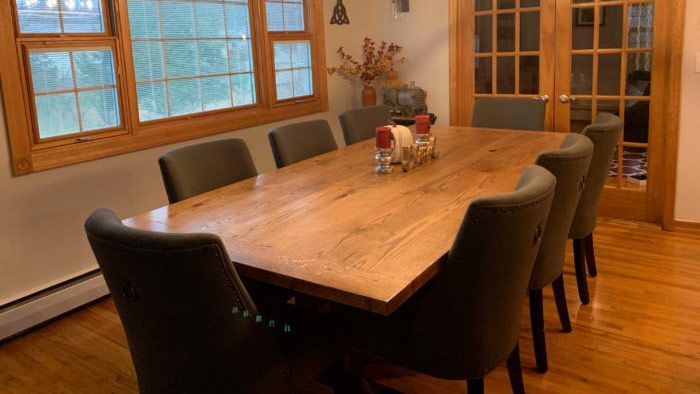 Joe O'Sullivan is known by many different names in many different capacities. During his four years with the Marines, he was known as Corporal O'Sullivan. In his tenure with the New York Police Department he was Sergeant O'Sullivan. To his family and friends in Ireland he is Yankee Joe. Here in New York he is Joe O.
Joe has always had a love of fine woodworking. Before his retirement from the NYPD, he dabbled with furniture making while developing and refining his woodworking skills with smaller projects including making stools, framing maps of Ireland, and building benches. Since his retirement from the NYPD in 2016, his love and passion for wood working has only grown.
The project I would like to tell you about is the trestle table Joe designed and constructed especially for us. About a year ago, we ate dinner at Joe's house on the new dining room table that he had just completed. My husband Jimmy (who is Joe's first cousin) and I both fell in love with it. I told Joe that I loved it and I wanted one. Knowing how much work it takes to make one of these tables, I never expected him to take me seriously.
A few months later, Joe called us up with plan. Along with his wife Maureen, four kids, Kelly, Fintan, Liam, and Mairead, he had myself, Jimmy, and our three boys travel up to his brother's farm where he had "hand-picked our table." We all got a front row seat to Joe cutting down the tree that was to become our table.
With each step of the table-making process, Joe involved his children, Jimmy, and my three boys as part of the journey. They helped pull the tree out of the woods, mill the wood into planks, stack it for drying, and then transport the planks to Joe's house where the real work began. From there they had to plane, cut, join, and glue the various pieces together. They were even a part of the staining process!
Our table is more than a place that we eat. It is a place where we gather at the end of the day, free of devices, to share our daily experiences. In this crazy world where we are raising three boys, we need this common place to keep us sane and on the straight and narrow. This table is our heirloom. This table has become our family. The table joined our annual Thanksgiving Day Feast this year. We hosted 33 people! While we couldn't seat that many people at our table, everyone was a part of it. It was the focal point of our day. We know that this was the first of many more gatherings to come and the start of a new tradition.
Here is a video we created for our children and future generations showing in detail the steps we took to make this extraordinary heirloom. The video culminates with our Thanksgiving Day family photo at our new table.
How remarkable is this for my children? To know that the table they are eating at each night is the result of one man's passion and vision? To know that they were a part of each step involved in making the table is just priceless.
There are many homes in Rockland County, New York, that hold some piece of memorabilia created by our family and friend Mr. Joe O'Sullivan. So Joe, who is known by so many different names, can also be called a master craftsman and furniture maker.
Editor's note: Watch the video! You'll be glad you did.
---
The Making of An Heirloom January 2020 from Jimmy O'Flynn on Vimeo.
---
Shauna O'Flynn and her family live in Blauvelt, N.Y.