From the Bench: The carpenter's son
A carpenter's son and his father share a lifelong love of woodworking, and in the process learn from each other.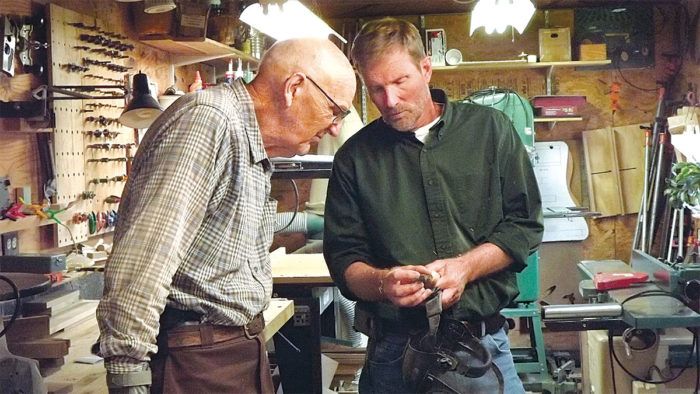 When I think of my youth, my memories ring with statements like these, spoken in my father's voice. You see, I am a carpenter's son.
On projects from boat building to house framing, I grew up helping my father with his work. I learned mostly by observation; he didn't give a lot of verbal instruction. I remember one particular visit to a mill. Before we arrived, Dad told me to take a look at the workers' hands. I don't think anyone there had a full set of fingers. After we left, he told me to take care of myself, as replacement parts were not as good as what God had given me. Lesson learned.
Another lesson I learned early was the joy of working in the shop by myself. I never raised Dad's ire for using the tools or material in his shop, but I did pay the price when I failed to return a tool to its proper spot. I was also lucky because my dad was friends with the high school woodshop teacher, so I had free rein in the school shop all four years of high school and built many pieces there, including a solid bird's-eye maple rocker and a steam-bent toboggan. While I was there I did Dad's turning projects, as he did not own a lathe.
After high school, I embarked on a 30-year career as a Coast Guard aviator. I loved my career, raised my own family, and slowly pieced together a shop of my own. As my children grew, I introduced them to woodworking and, like me, they enjoyed full use of their father's shop.
When Dad retired, he upgraded his shop and mine as well, since I was the beneficiary of his castoffs. Since then, Dad has been quite prolific, designing and building many beautiful pieces, from small boxes to hutches. Together we have felled trees, milled lumber, and made projects from the wood. My woodworking has improved through the years, yet my abilities still lag well behind his. Often Dad will scrutinize one of my finished projects, find a flaw, and ask, "What happened here?" When that happens, his final thought is always the same: "A wise man won't say anything, and a dumb man won't notice."
We regularly discuss projects and share our ideas about various elements. Dad has always been quite set in his ways. Of course I'm just a kid in my late 50s, and he's in his mid-80s; what could I possibly teach him? But every once in a while my persistence pays off.
For decades, his go-to finish was wiping varnish. No matter how I tried to get him to consider the plethora of finishes available, he resisted. Thankfully, we both have been FWW subscribers for years and have had many great discussions about what we've read. Greg Arceneaux's article "Easiest Finish? Danish Oil" in FWW #238 opened his eyes to the benefits and use of that finish, which he now uses with great success.
When I retired several years ago, my parents gave me a lathe, which rekindled my interest in turning. When I upgraded my lathe recently, I returned the original to my dad and gave him the first turning lesson he's had since he was in high school. I also recently rebuilt one of my dad's first contractor saws. It will soon find a home in one of my sons' shops.
Many woodworkers say they were inspired in this craft by a design, book, or piece by one of woodworking's "greats." But I believe far more woodworking passion, insight, and inspiration has been shared among family. My dad became a woodworker because an uncle encouraged him. Dad passed his love on to me. I shared it with my sons and daughter. It is a bond that has drawn me closer to my children, and continues to bring me closer to my dad.
From Fine Woodworking #281