Craig Thibodeau's homemade sanders
Craig Thibodeau produces work that obviously comes from the mind of a mechanical master. It's no wonder that when commercial sanders come up short, he modifies them or makes new ones himself.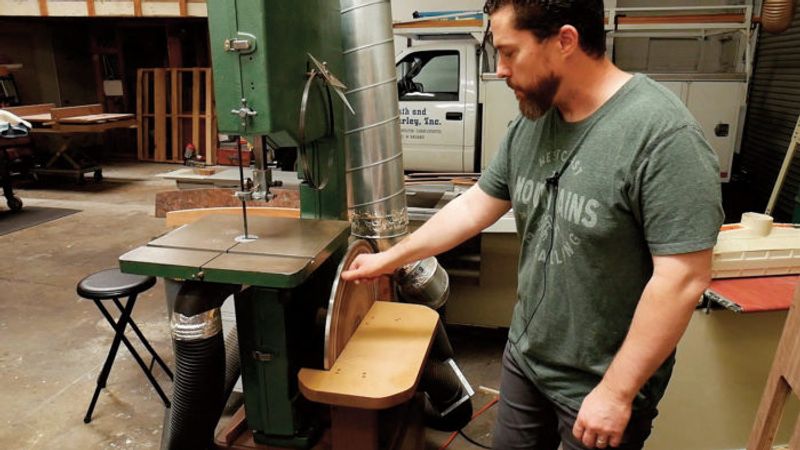 20-in. disk sander with an attached Grizzly bandsaw
This is basically a homemade 20-in. disk sander. It's a 1/2-in. aluminum plate, bolted to the rear pulley of a 16-in. Grizzly bandsaw with a cobbled together MDF table. As far as I know there aren't many other bandsaws where you can bolt a plate to a pulley, but it's just a couple of holes through the aluminum directly into the cast-iron pulley. I did have to file it flush so that it was consistent but it worked.
Curved platen belt sander
This one is a 6-in. x 48-in. benchtop belt sander that's been reconfigured a bit to have interchangeable curved platens behind the belt, and then it has a table bolted to one side of it for fairing curves.
One-of-a-kind, 48-in. disk sander
This is the only one-of-a-kind sander that I have. It's basically a 4-ft.- diameter pallet carousel, with a 3/4-in. granite top covered with sticky-backed sandpaper. The welded-up base has a support arm for dust collection and a right angle fence. The motor is variable speed.
This is the tool I've needed for a long time for flushing dovetails. The granite does a great job of making sure parts are perfectly flat. Since it's variable speed, I can dial it way down if I want to sand stuff really slowly. It's also reversible, because sandpaper tends to wear in one direction, and this way you can flip it around and go in the other direction. Or if you have a part that you need to get in one right angle but then you need to do the opposite angle on the other side, you can just move the fence setup and sand the other side.
The dust collection is set up with brushes mounted on the inside that go in both directions so it tends to brush the sawdust off the sandpaper and suck it out through the dust collection. The paper stays clean and the dust collection is almost perfect no matter which way you go.