Workshop Tip: Improve Your Jigs with Track Clamps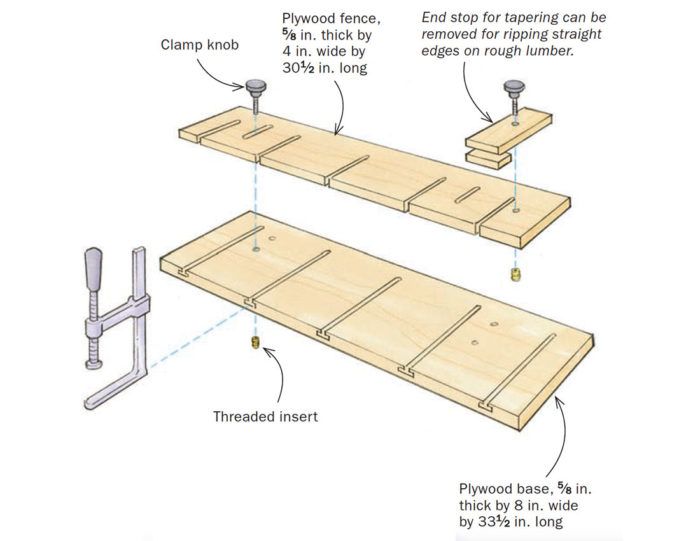 I see lots of router jigs that use toggle clamps, which are outdated in my opinion. Routing T-slots in your jigs lets you make use of track clamps instead. They are designed for today's assembly tables and guide rails. A model made by Bessey sells for $20 at Home Depot.
Also called guide-rail clamps, these have a number of critical advantages over toggles. First, track clamps adjust quickly, sliding up and down to accommodate workpiece thickness, and back and forth in their slots for overall positioning. Second, because of the C-shaped design, the clamp itself absorbs all of the clamping pressure, which means your jigs can be thinner and lighter in many cases.
My tapering jig showcases many of the advantages of track clamps. It has routed T-slots for the clamps and a movable fence for various tapers, plus a detachable stop block. Long enough for most table legs, it handles all widths and thicknesses. It's also great for sawing straight edges on rough-sawn lumber. I slide the jig against the rip fence, but you could easily attach a miter-slot runner to the bottom.
I use track clamps on most of the other jigs I build too, including my tablesaw crosscut sled.
Depending on the jig, I'll either rout T-slots through the plywood, using two straight bits, or only partly into the panel, using a straight router bit to clear out waste and a large keyhole-style bit: the Axcaliber T-Slot Cutter for Track Clamps, from Axminster, UK. This bit cuts a groove 1/2 in. wide by 1/4 in. deep. For durability, I recommend leaving at least 3/16 in. of material above the wide slots.
—OLA CARMONIUS, Malmö, Sweden
Illustrations by Dan Thornton
From Fine Woodworking issue #279