A sawyer's take on milling
For Matt Cremona, milling lumber started as a side-hustle, but thanks to Craigslist and social media, it's turned into a viable income.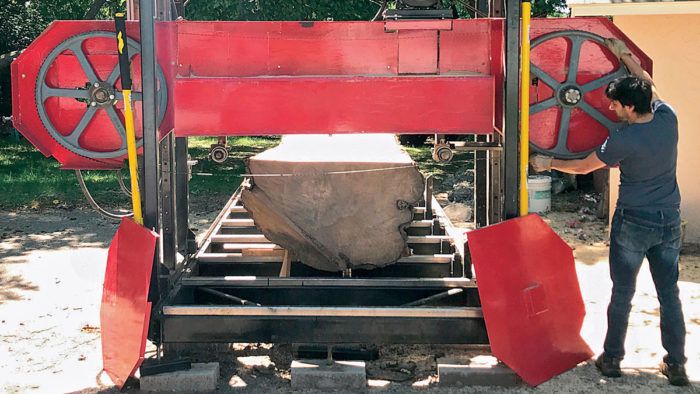 I got into milling my own lumber mostly out of financial necessity. I loved building furniture, but the cost of quality lumber was hard to bear. In the years since, milling has not only helped me save money, but make some as well. From early on, selling lumber proved to be a good side hustle, both for my wallet and my sanity. It's often no problem for me to unload 400 to 500 bd. ft. of lumber in two or three days thanks to Craigslist and social media. Even though this can sometimes take on the grind of a sales job, it's a great break from desk work, especially if you love using a chainsaw as much as I do.
When it came time to build my own bandsaw mill, I was smart enough to go big. It can handle 72-in.-dia. logs with room to spare, which means fewer headaches and backaches when trying to position the heavy logs. Also, the bigger the logs, the bigger the slabs—and the bigger the payday.
Although the mill's size means it has to be stationary, the benefits far outweigh the drawbacks for me. With portable mills, you need to worry about prepping the ground at each job site, making it flat and level. My mill's space is dedicated to sawing, so the ground stays ready.
Plus, bringing the logs to the mill isn't as bad is it sounds. I'm no Hercules, and I still make do just fine with a trailer, winches, pry bars, and cant hooks.
| | | |
| --- | --- | --- |
| Piles of future furniture. Cremona loves the ability to mill felled trees on his own, as the process extends the pleasure of woodworking and adds to the story of each piece. | Logs big enough for the whole family. For transporting logs, Cremona doesn't need huge machinery. A trailer and a winch do a great job. | Let the character show. Details like discoloration contribute to the board's story, so Cremona incorporates them into his designs. |
The mill itself doesn't require much upkeep. Aside from greasing moving parts when I remember to, I just blow off sawdust with a leaf blower when it piles too high. As for busting sawblades on metal, a blade can be as little as a tenth the price of a single slab. So I consider them a consumable, just like sandpaper.
If you're debating getting into milling, you don't have to go as big as my mill. That's certainly not where I started. Instead, invest in a chainsaw mill. They're inexpensive, you don't need tons of space to store them, they're portable, and even if you get a full-size mill in the future, you'll still need a chainsaw.
—Matt Cremona is a woodworker in Brooklyn Center, Minn.
From Fine Woodworking #279