Fine Woodworking Live 2019 Student Exhibition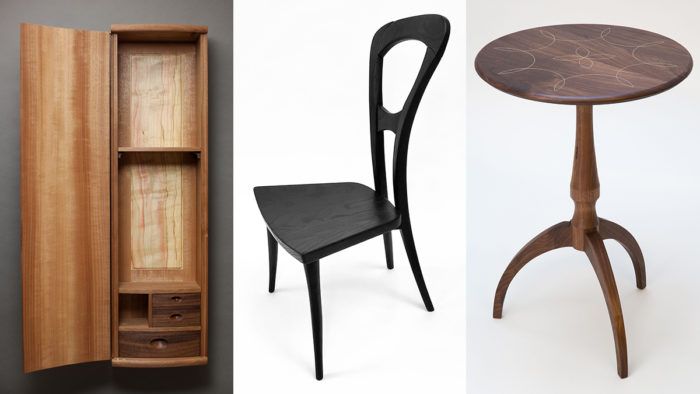 Imagine building a piece of furniture and putting all your attention, experience, knowledge, hopes and dreams into it (OK, that might be a little dramatic, but you know what I'm getting at). Then imagine putting that piece of furniture on display and standing by as hundreds of accomplished woodworking hobbyists, professionals, and journalists mill about your piece looking at it, inspecting it, touching it, discussing it in front of you, and asking you questions about it.
Yikes! Sound like fun? Or does that sound like a daunting experience? Or both? Well that's exactly what 14 woodworking students with 20 pieces of furniture subjected themselves to at Fine Woodworking Live 2019. And lucky for everybody who attended because the show was beyond gorgeous and inspiring!
The juried exhibit included work from current students or graduates within the past two years from five schools: North Bennet Street School, Center for Furniture Craftsmanship, Inside Passages, Thadeus Stevens College, and the Krenov School.
A gigantic thank you from all of us at Fine Woodworking magazine to the students who traveled with their pieces to participate in the annual Fine Woodworking Live student exhibition and to all the participants who made the show a popular destination.
Behold the work of these brave, extremely talented, up-and-coming woodworkers.
Lucinda Daly
Fort Bragg, CA
The Krenov School
Black Beauty, 2018
Elm
21" x 18" x 36"
@hotmamadaly
Jackson Fairlie
Boston, MA
North Bennet Street School
Windsor Stool, 2019
Yellow Pine, Maple, White Oak
40 3/4" x 18" x 19"
@jackson_fairlie
Kevin Hopkins
Somerville, MA
North Bennet Street School
Pembroke Table, 2018
Walnut, Holly, Ebony, Walnut Burl, Poplar
19 1/2" x 29" x 29 1/2"
@nokkenwood
John Kruis
Columbia, PA
Thaddeus Stevens College of Technology
Chest of Drawers, 2017
Mahogany, Satinwood inlay
24" x 38" x 41 "
Derek Matias
Arlington, MA
North Bennet Street School
Serpentine Wall Cabinet, 2018
Walnut, Walnut veneer
9" x 18" x 24"
@matiaswoodworking
Jeffery Mazur
Boothbay, ME
Center for Furniture Craftsmanship
Writing Desk, 2018
Walnut
28 1/2" x 48"
@mazur_woodcraft
Jeffery Mazur
Boothbay, ME
Center for Furniture Craftsmanship
Telephone Bench, 2017
White Oak, Ebony, Leather
16" x 40"
@mazur_woodcraft
Jonathan Ota
Boston, MA
North Bennet Street School
Japanese Tool Chest, 2018
White Pine
14" x 18" x 26"
@gunner_grey
Zala Ouyang
Toronto, ON
North Bennet Street School
Tambour Jewelry Cabinet, 2019
Walnut, Handmade Brass Hardware
12" x 12"x 12"
@zala.ouyang
Zala Ouyang
Toronto, ON
North Bennet Street School
Side Chair, 2019
White Oak, Ash
17 1/2" x 20" x 38"
@zala.ouyang
Rachel Prentki
Medford, MA
North Bennet Street School
McIntire Chair, 2018
Mahogany, Ash
18" x 22 1/2" x 37 1/2"
@grizzzlysquid
Torrie Smith
Vancouver, BC
Inside Passage School of Fine Cabinetmaking
Wall Cabinet, 2018
Makore, Manitoba Maple, Granadillo, London Plane, Brazilian Rosewood
27" x 8" x 4 1/2"
@the_ intentional_woodworker
Jeremy Tritchler
Malden, MA
North Bennet Street School
Dressing Table, 2018
Cherry, Maple, Pine, Holly & Rosewood Inlay
18" x 36 ½" x 39"
@jtritchler
Jeremy Tritchler
Malden, MA
North Bennet Street School
Music Stand, 2018
Mahogany
16" x 19" x 46"
@jtritchler
Jeremy Tritchler
Malden, MA
North Bennet Street School
Comb-back Windsor Chair, 2018
Maple, White Oak, Pine
25" x 24" x 47"
@jtritchler
Michael Turner
Andover, MA
North Bennet Street School
Tool Chest, 2018
Walnut, Maple
16" x 16" x 27"
@wildwood_custom
Thomas Waltman
New Providence, PA
Thaddeus Stevens College
Spice Box, 2017
Walnut, Poplar, Ash, Cherry, Locus, Holly
12" x 16" x 20"
Jeff Woods
Natick, MA
North Bennet Street School
Table, 2018
Walnut, Holly, Padauk
19 5/8" x 19 5/8" x 29 1/2"
@Jeffwoodswood
To view more images, click on the Gallery below:
Lucinda Daly Fort Bragg, CA The Krenov School Black Beauty, 2018 Elm 21" x 18" x 36" @hotmamadaly
Lucinda Daly Fort Bragg, CA The Krenov School Black Beauty, 2018 Elm 21" x 18" x 36" @hotmamadaly
Jackson Fairlie Boston, MA North Bennet Street School Windsor Stool, 2019 Yellow Pine, Maple, White Oak 40 3/4" x 18" x 19" @jackson_fairlie
Jackson Fairlie Boston, MA North Bennet Street School Windsor Stool, 2019 Yellow Pine, Maple, White Oak 40 3/4" x 18" x 19" @jackson_fairlie
Kevin Hopkins Somerville, MA North Bennet Street School Pembroke Table, 2018 Walnut, Holly, Ebony, Walnut Burl, Poplar 19 1/2" x 29" x 29 1/2" @nokkenwood
Kevin Hopkins Somerville, MA North Bennet Street School Pembroke Table, 2018 Walnut, Holly, Ebony, Walnut Burl, Poplar 19 1/2" x 29" x 29 1/2" @nokkenwood
John Kruis Columbia, PA Thaddeus Stevens College of Technology Chest of Drawers, 2017 Mahogany, Satinwood inlay 24" x 38" x 41 "
John Kruis Columbia, PA Thaddeus Stevens College of Technology Chest of Drawers, 2017 Mahogany, Satinwood inlay 24" x 38" x 41 "
John Kruis Columbia, PA Thaddeus Stevens College of Technology Chest of Drawers, 2017 Mahogany, Satinwood inlay 24" x 38" x 41 "
Derek Matias Arlington, MA North Bennet Street School Serpentine Wall Cabinet, 2018 Walnut, Walnut veneer 9" x 18" x 24" @matiaswoodworking
Derek Matias Arlington, MA North Bennet Street School Serpentine Wall Cabinet, 2018 Walnut, Walnut veneer 9" x 18" x 24" @matiaswoodworking
Jeffery Mazur Boothbay, ME Center for Furniture Craftsmanship Writing Desk, 2018 Walnut 28 1/2" x 48" @mazur_woodcraft
Jeffery Mazur Boothbay, ME Center for Furniture Craftsmanship Writing Desk, 2018 Walnut 28 1/2" x 48" @mazur_woodcraft
Jeffery Mazur Boothbay, ME Center for Furniture Craftsmanship Telephone Bench, 2017 White Oak, Ebony, Leather 16" x 40" @mazur_woodcraft
Jonathan Ota Boston, MA North Bennet Street School Japanese Tool Chest, 2018 White Pine 14" x 18" x 26" @gunner_grey
Jonathan Ota Boston, MA North Bennet Street School Japanese Tool Chest, 2018 White Pine 14" x 18" x 26" @gunner_grey
Jonathan Ota Boston, MA North Bennet Street School Japanese Tool Chest, 2018 White Pine 14" x 18" x 26" @gunner_grey
Zala Ouyang Toronto, ON North Bennet Street School Tambour Jewelry Cabinet, 2019 Walnut, Handmade Brass Hardware 12" x 12"x 12" @zala.ouyang
Zala Ouyang Toronto, ON North Bennet Street School Tambour Jewelry Cabinet, 2019 Walnut, Handmade Brass Hardware 12" x 12"x 12" @zala.ouyang
Zala Ouyang Toronto, ON North Bennet Street School Tambour Jewelry Cabinet, 2019 Walnut, Handmade Brass Hardware 12" x 12"x 12" @zala.ouyang
Zala Ouyang Toronto, ON North Bennet Street School Side Chair, 2019 White Oak, Ash 17 1/2" x 20" x 38" @zala.ouyang
Zala Ouyang Toronto, ON North Bennet Street School Side Chair, 2019 White Oak, Ash 17 1/2" x 20" x 38" @zala.ouyang
Zala Ouyang Toronto, ON North Bennet Street School Side Chair, 2019 White Oak, Ash 17 1/2" x 20" x 38" @zala.ouyang
Zala Ouyang Toronto, ON North Bennet Street School Side Chair, 2019 White Oak, Ash 17 1/2" x 20" x 38" @zala.ouyang
Rachel Prentki Medford, MA North Bennet Street School McIntire Chair, 2018 Mahogany, Ash 18" x 22 1/2" x 37 1/2" @grizzzlysquid
Rachel Prentki Medford, MA North Bennet Street School McIntire Chair, 2018 Mahogany, Ash 18" x 22 1/2" x 37 1/2" @grizzzlysquid
Torrie Smith Vancouver, BC Inside Passage School of Fine Cabinetmaking Wall Cabinet, 2018 Makore, Manitoba Maple, Granadillo, London Plane, Brazilian Rosewood 27" x 8" x 4 1/2" @the_ intentional_woodworker
Torrie Smith Vancouver, BC Inside Passage School of Fine Cabinetmaking Wall Cabinet, 2018 Makore, Manitoba Maple, Granadillo, London Plane, Brazilian Rosewood 27" x 8" x 4 1/2" @the_ intentional_woodworker
Torrie Smith Vancouver, BC Inside Passage School of Fine Cabinetmaking Wall Cabinet, 2018 Makore, Manitoba Maple, Granadillo, London Plane, Brazilian Rosewood 27" x 8" x 4 1/2" @the_ intentional_woodworker
Jeremy Tritchler Malden, MA North Bennet Street School Dressing Table, 2018 Cherry, Maple, Pine, Holly & Rosewood Inlay 18" x 36 ½" x 39" @jtritchler
Jeremy Tritchler Malden, MA North Bennet Street School Dressing Table, 2018 Cherry, Maple, Pine, Holly & Rosewood Inlay 18" x 36 ½" x 39" @jtritchler
Jeremy Tritchler Malden, MA North Bennet Street School Music Stand, 2018 Mahogany 16" x 19" x 46" @jtritchler
Jeremy Tritchler Malden, MA North Bennet Street School Comb-back Windsor Chair, 2018 Maple, White Oak, Pine 25" x 24" x 47" @jtritchler
Michael Turner Andover, MA North Bennet Street School Tool Chest, 2018 Walnut, Maple 16" x 16" x 27" @wildwood_custom
Michael Turner Andover, MA North Bennet Street School Tool Chest, 2018 Walnut, Maple 16" x 16" x 27" @wildwood_custom
Michael Turner Andover, MA North Bennet Street School Tool Chest, 2018 Walnut, Maple 16" x 16" x 27" @wildwood_custom
Thomas Waltman New Providence, PA Thaddeus Stevens College Spice Box, 2017 Walnut, Poplar, Ash, Cherry, Locus, Holly 12" x 16" x 20"
Thomas Waltman New Providence, PA Thaddeus Stevens College Spice Box, 2017 Walnut, Poplar, Ash, Cherry, Locus, Holly 12" x 16" x 20"
Thomas Waltman New Providence, PA Thaddeus Stevens College Spice Box, 2017 Walnut, Poplar, Ash, Cherry, Locus, Holly 12" x 16" x 20"
Jeff Woods Natick, MA North Bennet Street School Table, 2018 Walnut, Holly, Padauk 19 5/8" x 19 5/8" x 29 1/2" @Jeffwoodswood
Jeff Woods Natick, MA North Bennet Street School Table, 2018 Walnut, Holly, Padauk 19 5/8" x 19 5/8" x 29 1/2" @Jeffwoodswood
Jeff Woods Natick, MA North Bennet Street School Table, 2018 Walnut, Holly, Padauk 19 5/8" x 19 5/8" x 29 1/2" @Jeffwoodswood