Tool News: Bora Tool's New PM-900 Workbench Caster Kit Set
Bora Tool uses newest technology from mobile bases to create the industry-leading workbench caster set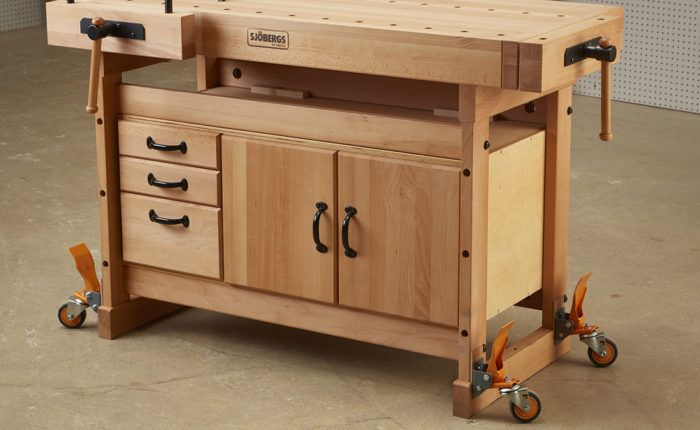 From Bora Tool:
---
Bora Tool, a leading manufacturer of tools, woodworking and workshop accessories, announces the release of its all-new mobility solution—the PM-900 Workbench Caster Kit. This all-swivel set is the ideal solution to make your workbench mobile, allowing any workbench to be moved wherever it needs to go in your shop.
With a 620 lb. weight capacity, this caster kit easily supports a full-size workbench. The omnidirectional design of the PM-900 Caster Kit makes it easy to move heavy workbenches at the touch of a finger—a necessity when you need to make room in the shop to use larger equipment and projects. High-quality wheels and foot lever mechanisms ensure that the bench stays solidly in place when it is in use. This allows for a steady and stable work surface for projects.
"Workshops keep getting smaller, and our users need flexibility in the space where they work," says Rod Bonham, Product Manager for Bora Tool. "The Workbench Caster gives you the mobility needed to move your workbench— which is the hub of your workshop—out of the way quickly and easily."
Key features of the Bora Workbench Caster Kit include:
155 lb. capacity per wheel, up to 50 lbs. more per wheel than other kits;
All-swivel wheels to easily move the bench around small workshops and into tight spaces;
Non-marking three-inch rubberized wheels provide a smooth roll over cords and uneven floors;
Heavy-duty foot lever mechanism from Bora's popular mobile base lineup delivers proven performance;
Bracket design can be fitted to virtually any bench.
The PM-900 retails for $89 and will be available late June 2019. For a complete list of retailers, visit www.boratool.com or call 866.588.0395.
About Bora Tool & Affinity Tool Works, LLC
Bora Tool is a manufacturer of woodworking tools and workshop accessories serving a variety of markets, including building and remodeling, DIY, industrial, and woodworking. Designed to increase productivity, simplify complex tasks, and help produce consistent professional results, product brands include PortaMate, Centipede Tool, and HTC Products. Affinity Tool Works, LLC is the parent company of Bora Tool and exclusive North American distributor for FISCH, Tormek, and Sjobergs. For more information, visit www.boratool.com or www.affinitytool.com.