Shopmade Outfeed Stand
Adjustable work support is a versatile, sturdy shop helper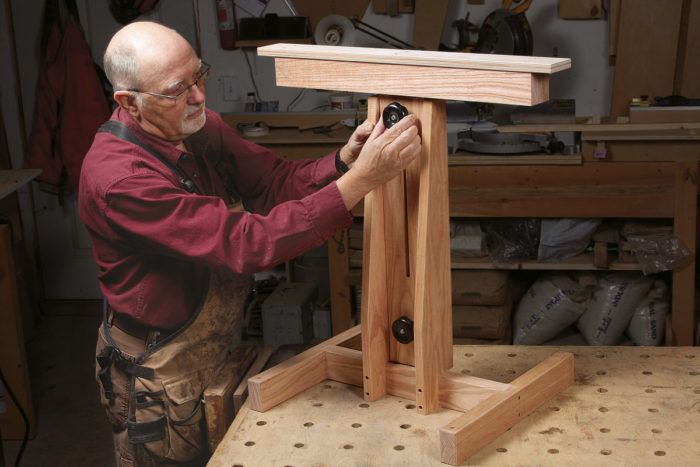 I made this support stand many years ago, and it has proved to be a very helpful friend. The top can be quickly and precisely adjusted from 44 in. high—tall enough for my bandsaw—down to 31 in., so it stores under my tablesaw's outfeed table.
Compared to store-bought stands, this one is more stable and easier to level. Adjustable feet accommodate uneven floors, teaming up with a broad base and a strong sliding column to keep the stand from budging under heavy work.
With a stable platform like this, it wasn't long before I was adding various rollers and other attachments, making the stand indispensable.
Sure-footed base keeps it stable
The base is broad and strong, yet the joinery is simple: just shallow dadoes and screws, with some glue for insurance. I found the heavy-duty, adjustable feet sold as appliance levelers at a hardware store, but similar products are available online, often called leveling feet. Avoid the ones with nylon feet, which will slide across the shop floor. Mine have 5/16-in.-dia. threaded posts that screw into T-nuts in the base.
Just above the base is a two-piece column. The fixed column has sides that guide the sliding column, which is screwed to the top. If I relied only on the bolts and slots to keep the sliding section aligned, the slots would wear out and the action would get sloppy. I use two large star knobs to lock the column, with one slot in the fixed part and one slot in the sliding portion.
I attached the sides of the fixed column with biscuits. The sides are notched at the bottom, teaming up with the center section to create a strong bridle joint at the base. That joint is also glued and screwed.
The top plate on the stand is wide and strong, thanks to a thick support beam made of three layers of hardwood. Filler strips in the middle fit around the sliding column to create a bombproof joint.
From Fine Woodworking #244 (Tools & Shops)
To view the entire article, please click the View PDF button below.
View PDF