Coopered Doors in Spice Cabinet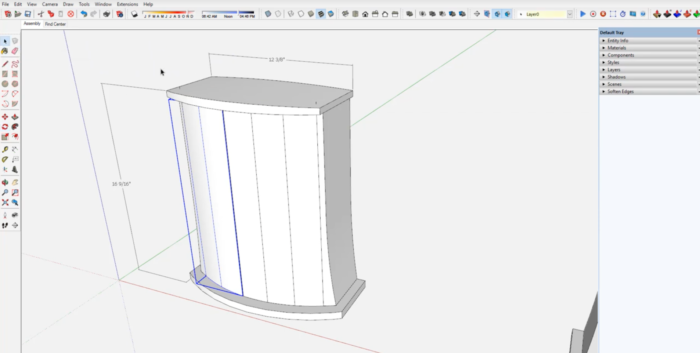 Here is a rough idea on a Contemporary Spice Cabinet – something small and perhaps on kitchen counter. The plan is to use "coopered" doors – two hinged doors, one with two staves and the other, three staves. In the following pictures and videos, I will show a method of creating the dimensional details to create these coopered doors in the shop.
Here is the planned size and shape of the Spice Cabinet. I'm showing a slight rotation of the Left Door of two staves.
The first step was to find the Center of the existing arc in the Bottom component as the doors will have a shape based on a concentric circle/arc based on the Bottom arc. I right click on that existing arc and choose Find Center in the dialog box.
Knowing the arc's center, I can use that to create a circle that will be at the location of the front face of the doors. Also, I show a straight line that I've "divided" into 5 segments, representing the location of the 5 Staves.
Now I can draw lines at these 5 segments that will define the joint angles for the Staves. Also, I've shown making a concentric arc using the Offset Tool to show the width of the Staves – 5/16-in.
A next step was to make components of all the final unique shaped Staves. However, the Staves will be made from 3/8-in. thick material and I need dimensional detail on the making of the rectangular components. So in the picture below, I'm showing modifying these curved Staves into rectangular components. I'm drawing a straight line on the inside edge, and then creating a parallel edge 3/8-in. offset. Note the magenta color that indicates a parallel copy of the line.
Below are all the rectangular Staves from the 3/8-in. thick material. Each Stave is a unique component.
To make these Staves in the shop, I show two illustrations for each component – an overall Perspective view, and a Top Orthographic view. The specific angles are shown in the Top Orthographic view.
The orthographic Top View of Stave L1. I need one of these for each Stave. Also I'm showing the measurement of the angle using the Protractor Tool.
Following is the video – actually a Playlist of two separate videos.
Tim
http://www.youtube.com/c/killenwood