Finishes: Our Favorite Articles
Our editors have sorted through our archives for their favorite articles and videos on finishing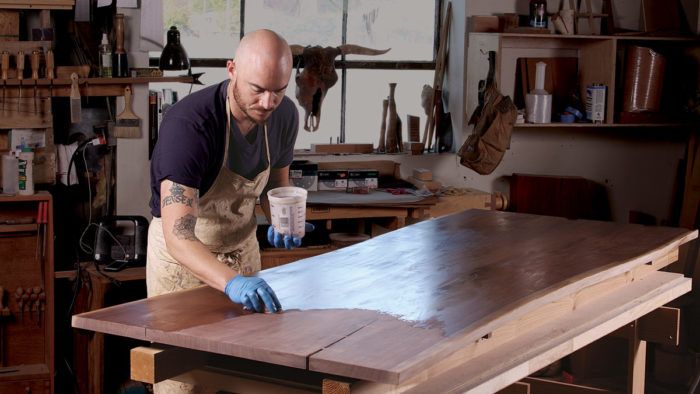 Our editors have sorted through our archives for their favorite articles and videos on finishing. Featured below are our top seven how-to articles and video workshops showing you how to use milk paint, wood bleach, Osmo Oil, shellac, wiping varnish, and some tips for correcting and maintaining finishes.
---
Synopsis: It's durable and versatile, it comes in a variety of colors, and it contains no toxic ingredients. It's no wonder that milk paint, one of the world's oldest decorative coatings, is enjoying a new burst of popularity. While makers of Shaker and Colonial reproductions are familiar with milk paint, the unique effects possible with this finish have also captured the interest of those who make period and contemporary pieces. Nancy Hiller demonstrates how easy it is to mix and apply milk paint to achieve an opaque finish, color washes, layering effects, and other looks.
By Nancy Hiller
---
Synopsis: You can remove the color from wood without taking away its personality. Michael Robbins shows how on a white oak cabinet, where bleached panels contrast nicely with the natural carcass and still allow the oak's ray fleck to shimmer through. Robbins uses a two-part bleach finish, and in this article he demonstrates how to adjust the color to exactly what you want, neutralize it, and enhance it with a finish that will keep it white.
By Michael Robbins
---
Synopsis: Marcus Soto discusses why he prefers Osmo Oil and shows you how to achieving a fine finish while using it. The secret is filling the pores with a slurry made of sanding dust and the finish itself. 
By Marcus Soto
---
Synopsis: If you've shied away from shellac because you once tried to brush it straight from the can, or if you've been put off by the thought of a French polish, it's time to give this versatile, fast-drying finish a second look.  The keys to success are excellent surface preparation and using thinned shellac so it goes on easily. Using this technique, you'll get a nice satin finish that's friendly to the touch in about a half hour.
By Michael Pekovich
---
Synopsis: Searching for a silky smooth, low-luster finish that lets the beauty of the wood shine through? Try wiping varnish. Michael Pekovich says it gives the durability and flawless look he wants, along with easy application. This versatile finish is thin enough to wipe on, but dries hard even when applied in thicker coats. Start here to learn which brand he prefers, and follow his simple steps for fast, dependable results.
By Michael Pekovich
---
Synopsis: There are thousands of furniture care products on the market, from wood cleaners, to dusting sprays, to oils, to waxes. And perhaps more than other group, woodworkers can be vulnerable to the advertising hype that says these products are what you need to keep your beautiful furniture looking beautiful. Finishing expert Teri Masaschi cuts through all the hype—for that's just what it is—and tells you exactly what products will maintain the finish you worked so hard to achieve. The answer is simple: Keep it simple.
By Teri Masaschi
---
Synopsis: No one, whether hobbyist or professional, is immune to finishing mistakes. In this article, professional finisher Teri Masaschi offers remedies for 10 common problems, from surface flaws such as scratches and tearout, glue residue, and oversanding; to color mistakes such as uneven dye stain, bad color, or blotchiness; to topcoat problems such as drips and sags, contaminated finish, burn-through, and witness lines from oversanding. Masaschi demonstrates how to fix these problems after they happen, and what to do differently to avoid the problem next time.
By Teri Masaschi