Tool Review: Bosch GKF12V-25N 12-volt Max Palm Edge Router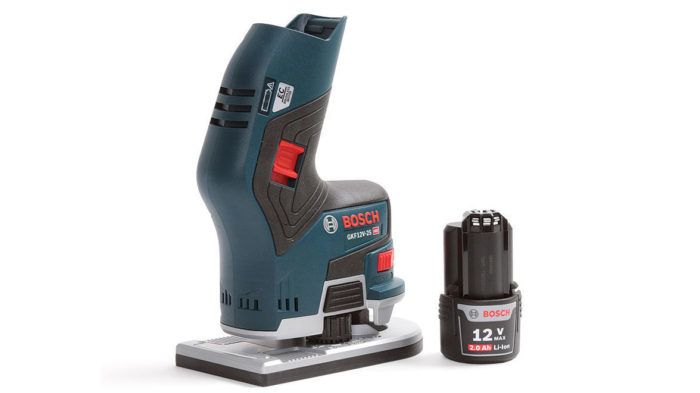 When I unpacked the Bosch GKF12V-25N 12-volt Max Palm Edge Router for the first time, I was somewhat puzzled by the odd-shaped pistol-grip body. But within a couple of passes edging a board with a small roundover bit, I began to understand. The offset and slightly canted grip allows easy one-handed operation without the tendency for the router to try and twist in your hand. The canted grip creates an axis that is not centered through the bit or perpendicular to the base, so control is easy and positive. The base has corrugations cast into slight indentations, offering a slip-free grip pad.
A single button on the side of the motor housing allows easy plunge and the integrated fine-adjust thumbwheel moves the housing 0.04 in. (1 mm) per full revolution, making it effortless to fine-tune the cutting action. A thumb-wheel stop lock, on the opposite side from the plunge release, allows positive locking of the depth adjustment. Bosch's single tool bit-change system has a collet lock that is obvious and easy to use.
Of course, freedom from cords is a huge asset, and the 2.0 amp/hr., 12-volt, lithium-ion battery offers plenty of power and operating time. This is the handiest edge trimmer I've had the pleasure of using.
—Roland Johnson is a woodworker in Minnesota.