Tool Review: Veritas Bench Axe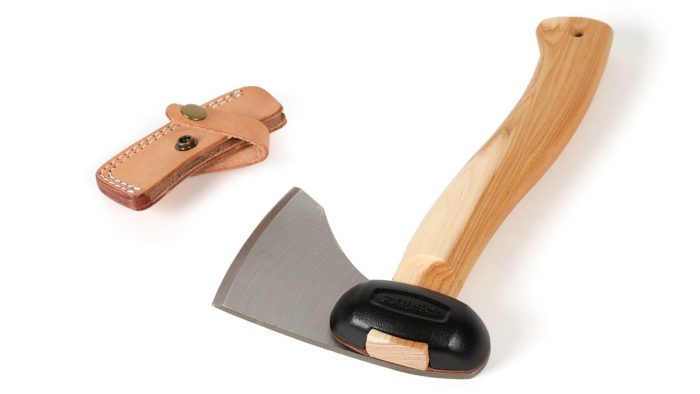 The innovative design of the Veritas bench axe piqued my curiosity the moment I saw it. The handle is secured to the 3/16-in.-thick plate steel blade by an ingenious system of two mounting screws that draw a cast steel collar around the handle and against the blade. In spite of my efforts to force it loose in general use and while roughing out bowls and spoons, there was no wiggle to the handle at all.
The handles on my traditional axes hold firmly, too, so why bother with such an engineered design? The main advantage is the ability to easily remove the handle and grind the edge on a standard grinder for a precise hollow-grind, just as with plane irons or chisels.
The blade has a 4-in. edge, curved along its length. The left side (for the right-handed version) is absolutely flat, while the right side has a 30° bevel. As is, the manufacturer recommends it for "roughing cuts of convex and flat shapes." I used it to trim the edges of riven planks and shape convex curves on boards and it performed very well. When carving, though, I prefer an ax with some bevel on the left side. It was easy to pop off the blade, grind a small 5° bevel on the left side, and adjust the right bevel to 25° at the grinding wheel with a tool rest.
Veritas used its premium PM-V11 steel for the head. The edge held up very well, with no sharpening hurdles. A nicely made protective leather sheath snaps on securely.
The ax weighs 3 1/2 lb., so it provides plenty of oomph. I could have used a little more handle length at times to add momentum to the swing for heavy roughing cuts, but for most tasks, the handle length makes sense, and the design allows for a grip right behind the edge for extra control. It would be a useful ax for general trimming and shaping jobs, as well as for spoons and small bowls.
—Dave Fisher is a woodworker in Greenville, Pa.