Workshop Tips: Sign your work with branded nameplates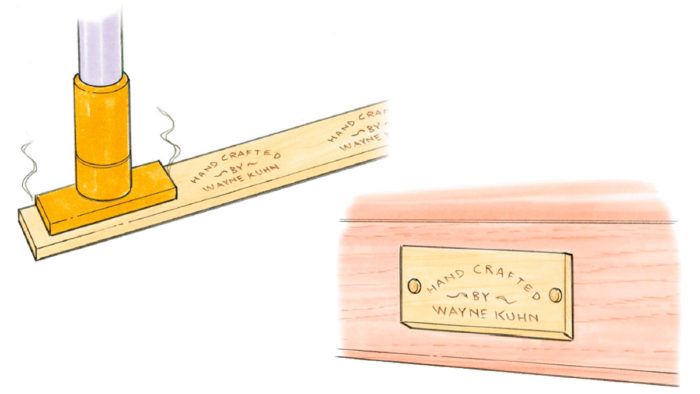 To sign my work in a distinctive, repeatable way, I ordered a custom brand. Available at major online woodworking retailers, these come in electric and torch-heated versions. but it always feels a little risky to apply a hot iron to a finished piece of work. To eliminate the risk and make my maker's mark even more distinctive, I burn a whole row of brands into a strip of thin wood, and then cut it apart to create a stack of custom nameplates. I use hard maple about 1⁄8 in. thick, cut just wider than the height of my brand. After burning a row of brands into the strip, I sand the surface a little, cut it apart to create the nameplates, and bevel the edges of each one, storing them in a baggie. When I need one, it's ready to go and I attach it with cyanoacrylate glue or brass brads. No waiting for the iron to heat up, and no risk.
—Wayne Kuhn, Columbia, Md.
From Fine Woodworking #271
Drawings by Dan Thorton