Press Release: New RIKON Smart DVR Control & Motor, Model 13-926
Billerica, MA, September 2018: RIKON Power Tools Inc. announces its NEW Smart DVR Control with 1.75HP Motor for 14" Bandsaws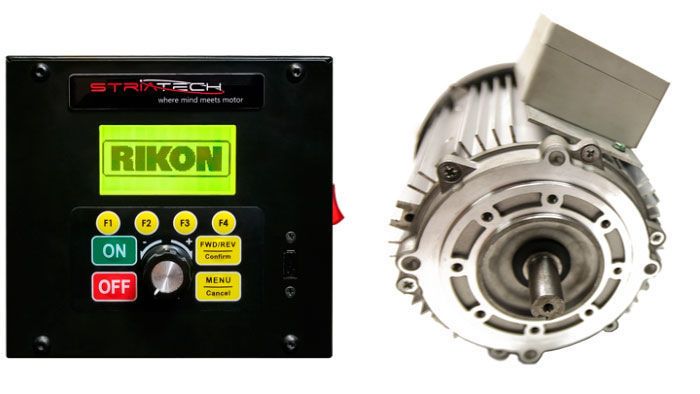 RIKON Power Tools, a leading manufacturer of woodworking machinery in partnership with Striatech, experts in motor control and design, announce the launch their New Smart DVR Control with 1.75HP Motor for 14" Bandsaws which features variable speeds for dialing in the best sawing speeds for any material.
It's been almost 200 years since the bandsaw was first produced. In that time, the technology has barely changed… until now.
By adding Striatech's smart switched reluctance motor, RIKON's 14" bandsaw series is better than ever before.
Unlike conventional bandsaw motors, the Striatech motor is infinitely variable, and offers continuous torque. This
means you get a consistent and beautiful finish cut on your workpiece, and a much easier user experience. Improved energy efficiency and quiet, vibration-free operation are added bonuses when upgrading your bandsaw with this new high-tech and innovative motor control system. With an easy-to-read screen and DVR controller, this technology adds much-needed features to the bandsaw.
Features of the NEW RIKON 13-926 Smart DVR Control with 1.75HP Motor include: 
Motor – 1.75 HP motor provides ample power for any sawing job. Operates on 110V or 220V
Blade Speed – Variable from 100 RPM (45 SFPM) to 2,375 RPM (4400 SFPM)
Continuous Torque – 1.75 HP motor will never slow down producing a beautiful/smooth cut
Safer Operation – Fast electronic braking and load spike detection
Effortless Cutting – Fifteen suggested speed settings for wood/metal/plastic plus one custom range
Easy-to-Use – One-touch speed selection
Smart DVR Control and Motor Upgrade will fit these 14" RIKON models: 10-320, 10-321, 10-324, 10-325, 10-326, and RK14CS.
MSRP: $629.99.  Available for distribution Q4 2018.
RIKON Power Tools is dedicated to designing and manufacturing woodworking machinery of the highest quality that enhances the woodworking experience. RIKON offers an extensive line of woodworking machinery and accessories for: sawing, cutting, drilling, sanding, jointing, grinding, sharpening and turning.  RIKON has built its reputation on valuing its customers and their woodworking experience, as well as striving for excellent quality products at a reasonable price.
Full 2-year warranty.  For more information on the products RIKON offers, please contact RIKON Power Tools at 877-884-5167 or at www.rikontools.com.