Cabinet Hardware Jig by Kreg
Jig for installing knobs and pulls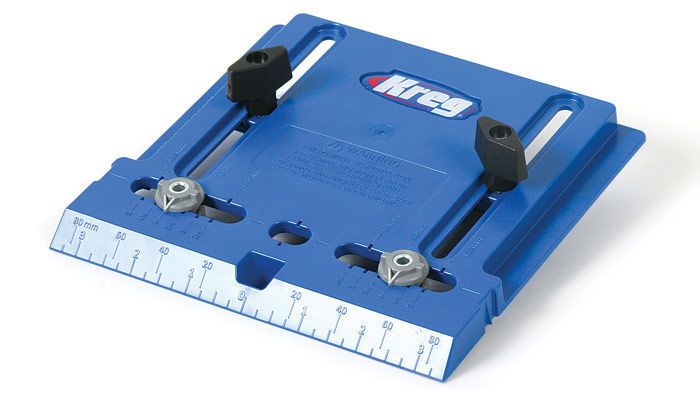 The Kreg Cabinet Hardware Jig is a simple, well-designed, adjustable jig for drilling standard 3⁄16-in.-dia. mounting holes for single-stem knobs or two-stem pulls. The jig is a rigid plastic platform with a sliding fence that provides adjustable offset from a door or drawer edge.
The minimum offset is 1 in. and the maximum is 5 in. There are imperial and metric gauges for setting the fence. The two drill guides are plastic with steel bushings. They slide in grooves that have foolproof indents, which position the guides for six standard pull lengths: 2-1⁄2 in. through 5 in., in 1⁄2-in. increments. The opposite side of each groove has indents for 64mm, 96mm, and 128mm. And there is a center hole for positioning one of the guides for drilling knob holes. For both single-hole and two-hole drilling, the jig is aligned with a centerline on the workpiece.
The sliding fence has excessive play, so you must set it very carefully to avoid locking the fence askew. Still, this jig is well designed overall and should help me discard the plywood versions I've made over the years.
More on FineWoodworking.com: