Tool Review: I-Beam Clamps by Bessey
Mike Pekovich takes a look at Bessey's new beefy I-beam clamps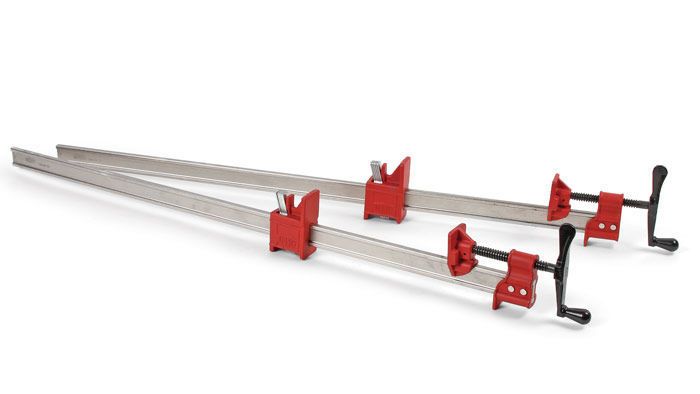 I tend toward using lighter-weight clamps these days, but there are occasions when a heavy-duty clamp comes in handy. It's nice, for instance, to be able to lock down the pressure on a panel or cutting board glue-up. But there aren't a lot of options for new heavy-duty clamps. That's why I was happy to give Bessey's I-beam clamps a try.
With a nickel-plated I-beam at their heart, the clamps have 2-in.-wide jaws. They're available in lengths ranging from 2 ft. to 8 ft., and all are rated for 7,000 lb. of clamping pressure. I put them to use on a recent cutting board glue-up, and they handled the job with ease. The large handles made it easy to apply as much pressure as I wanted, though I'm pretty sure I didn't come close to maxing out the clamps. Glue drips on the bars popped off fairly easily when dry.
The only concern I had was that the steel clutch plates left slight ridges along the bar. Whether they were digging into the cast iron or just the nickel plating wasn't clear, but it didn't seem to hinder the sliding action of the jaw. The clamps are priced from $44 to $75, with the 48-in. version costing $52. For what they offer in a beefy clamp, I'd consider them to be a pretty good value.
More on FineWoodworking.com: