Simple Pipe-Clamping Jig Flattens Rough Slabs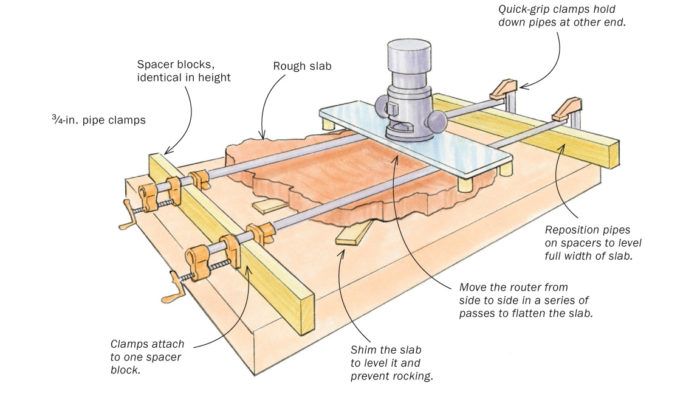 Here's a simple way to flatten uneven stock using standard shop tools. It's especially helpful for rough tree-trunk slabs that would otherwise be difficult to handle. It involves two 3⁄4-in. pipe clamps and a router with an extended base.
Lay the rough slab on a flat surface such as your benchtop, shim it as level as possible, and secure two identical spacer boards at the ends, tall enough to suspend the pipe clamps and router over the slab with clearance for the bit. Now choose 3⁄4-in. pipe clamps (1⁄2-in. pipe is too flexible) with very straight pipes, long enough to reach across the slab from spacer to spacer. Place the pipe clamps so that your extended router base has room to slide from side to side and surface a wide band of the slab. When that area is flat, reposition the pipe clamps on the spacer blocks to bring the rest of the slab to the same level.

I recommend acrylic (Plexiglass) for the extended router base, so you can see where the router bit is cutting. It's also helpful to screw small blocks or dowels to the ends so that the base can't fall off the pipes. Use a straight router bit for the job. I've had the best results with a 1⁄2-in.-dia., solid-carbide, up-spiral bit. It allows me to remove significant amounts of material in a single pass without slowing down the router too much.
Once you've flattened the first side, you can flip the workpiece to flatten the other side, bringing the entire slab to uniform thickness. At that point, you can finish up with sandpaper.
—Ralph Pasquinelli, Batavia, Ill.