A new career, a new perspective
Dean Babin is 2017 recipient of the Alden Artisan Advancement Award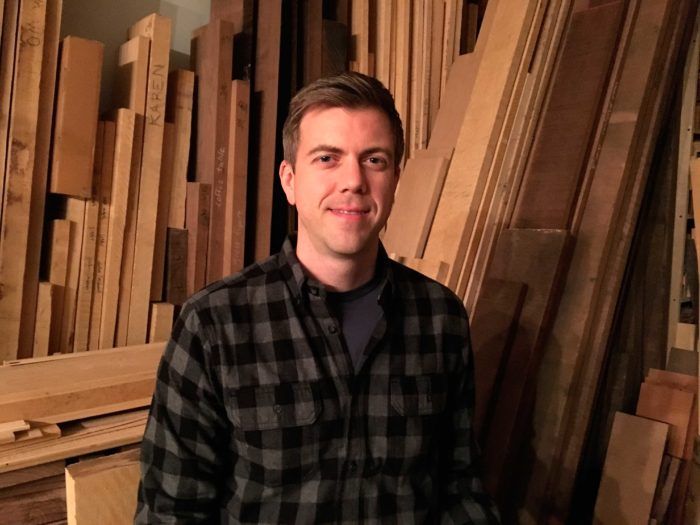 Dean Babin has traveled far since his days in digital media at Nickelodeon. And it wasn't just the physical distance from Times Square to Rockland, Maine. It was his journey from working for a living to living his dream.
"I realized that woodworking was going to be my career when my job in digital media was getting in the way of the furniture I was making," Babin says. "I was carving out as much time as possible outside of my day job to work on furniture, but it wasn't enough for the level of craft I was pursuing."
So Babin left the city and enrolled in the full-time furniture making program at the Center for Furniture Craftsmanship in Rockport, Maine. "It appealed to me because of its reputation for allowing students to pursue their own designs." He graduated in June of 2017, and just a few short months later, has been named the 2017 recipient of the Alden Artisan Advancement Award, a grant for aspiring professional furniture makers.
Started by furniture maker Greg Brown with the backing of the New Hampshire Furniture Masters, the Alden Artisan Advancement offers the recipient $1,000 to develop and promote an original furniture piece, to be exhibited at the Masters' main event in October, professionally photographed, and featured in the NHFMA's annual catalog in the "emerging artist" section. In addition, the winner gets the benefit of feedback on the piece, can partake in all marketing events, and receives professional guidance from members of the organization.
Babin will be using his award to design and make a side table that is a departure from the clean, contemporary work he has done so far. Inspired by a sculpture he bought in an antique store, his table's base will resemble the sculpture of a man doing a handstand. "I'm in the model-making phase of the project and may have the man's arms and legs connect to his body similar to how the legs of a Shaker candle stand attach to its base via sliding dovetails," Babin says. "The tabletop may be made of glass. I'm excited about this new direction as well as the opportunity to integrate color into the piece."
"Overall our jurors liked how Dean was thinking outside of the box," Brown said. "He will have till about May to finish his piece for the photo shoot."
"The handstand man piece resonated with me due to my background in the Brazilian martial art of capoeira as well as my yoga practice.  In capoeira, a handstand is symbolic of seeing the world from a different perspective or viewpoint, which I also try to apply to the furniture that I make."
After graduating from CFC, Babin worked for furniture maker Eben Blaney for a time. "I helped Eben make a set of benches and side tables which enabled him to focus on making new pieces for the Philadelphia Museum of Art's Contemporary Craft Show." On weekends, he worked out of Libby Schrum's shop in Camden. This month he began working out of Aaron Fedarko's shop in Rockland. "I'm focused on making a console table for a client in New York City.  The table is a replica of a piece designed by Edward Wormley in the 1950s."
What started as a hobby, refinishing and repairing hand-me-downs when working in media, has turned into a new career that Babin is very excited about.
"I went from the world of SpongeBob SquarePants and Dora the Explorer to fine furniture," he says. "It's been an entertaining ride."
Visit his website to see more of his work. To learn more about the Alden Artisan Advancement award, go here.