Compressor by California Air Tools
Compressor whispers rather than roars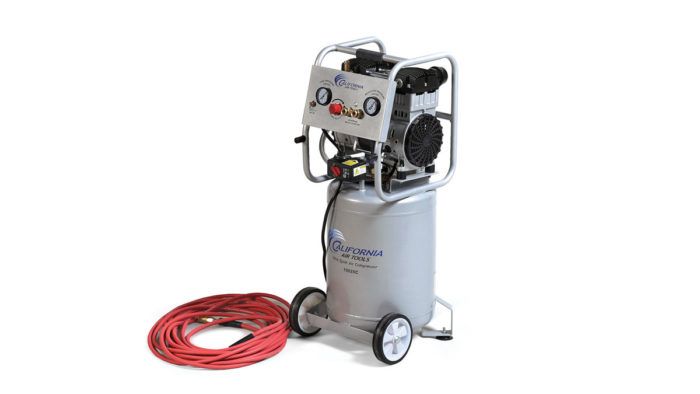 I use a vacuum press for veneering and to create curved doors. My press is a simple machine, but it requires a fairly large compressor to work efficiently and effectively. The compressor I currently use does the job, but is so loud that I must wear hearing protection when it runs. It also vibrates like mad, and you can feel it throughout the house. Because of these problems, I used the vacuum only during the day. That's tough, because it's nice to leave glue-ups in the bag at night when the shop isn't in use. So I've been on the hunt for a compressor powerful enough to run my vacuum press, but quiet enough to be used overnight and without hearing protection when I'm in the shop.
I've found it. The CAT-10020C air compressor from California Air Tools has a 2-hp motor, a 10-gal. tank, plenty of cfm to run my vacuum press (4.40 cfm at 90 psi), and is unbelievably quiet for a compressor this size. Standing next to the compressor and taking readings at ear level, I measured its noise at 70 db. The noise level dropped to 68 db when I measured it from 10 ft. away. It's quiet enough that you can have a normal conversation standing next to it, and I was able to hear the music playing over my shop radio with no problem while it was running. With the CAT-10020C, my press pulled air from the vacuum bag just as quickly as it does when hooked up to the screaming beast of a compressor I've been using.
The CAT-10020C also has convenient, user-friendly features. With two universal 1⁄4-in. quick connectors, simply push in the hose fitting and the connector holds it tight. At 86 lb., it's also fairly light for its size, and the weight is well-balanced when the compressor is wheeled about. The drain valve is tool-free, opening and closing with the turn of a handle. This truly is the compressor I have been looking for.
—Matt Kenney is the special projects editor.
One-handed hookup. There's no need to pull back the collar on the quick connectors. Just push in the hose.
Big power. With a 2-hp motor and plenty of cfm, the CAT-10020C from California Air Tools can drive a vacuum press large enough for most furniture parts.