Backcover/How They Did It: Period Imperfect
Dan Strout's tall clock is a blend of traditional Scottish, French, Dutch, and American period details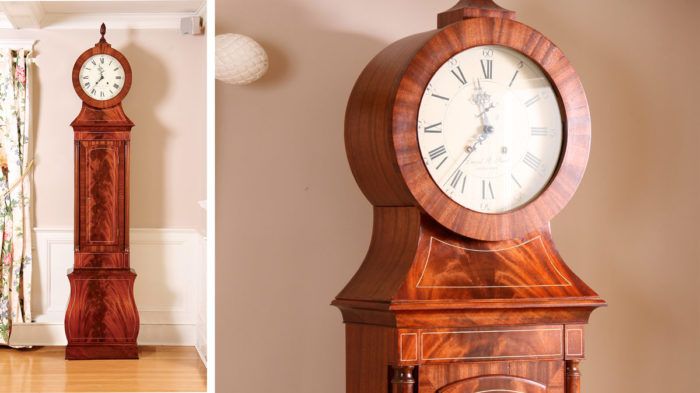 Synopsis: Dan Strout is a period furniture enthusiast, but he doesn't confine himself to exact reproductions. Strout's tall clock combines complex shaping with vacuum veneering, inlay, turning, bent lamination, and carving. To make the project more approachable, he broke it into four parts: bombe base, the central section or waist, the neck, and the drumhead.
From a technical point of view, building this tall clock was quite a tall order. It combined complex shaping with vacuum veneering, turning, inlay, circular bent lamination, and carving. Yet Dan Strout describes the build as "well within the ability of the serious amateur furniture maker." To make the project more approachable, Strout thought of it in four main parts: the bombé base, which conceals two secret compartments; the central section, or waist, with its turned columns and crotch-mahogany veneered door; the neck, shaped from poplar, veneered with mahogany, and inlaid with holly stringing; and the drumhead, with its bent-laminated case and circular glass door.
The base, he says, "required the most finesse." Once he had shaped and veneered the parts for its three sides, he was faced with mitering the two front corners. The curves had to match exactly at the points of the miters, or he would have gone through the mahogany veneer in fitting them. He began the miter cuts at the tablesaw, but didn't have enough blade height to cut them completely, so he finished the cuts with a handsaw and then cleaned up the miters with a block plane.
Strout veneered the front surfaces of the clock with crotch mahogany, which he first de-wrinkled by spraying the sheets with a veneer softener and clamping them between pieces of melamine.
After all the work he put into the clock, he did not skimp on the finish. He began by darkening the mahogany with potassium dichromate, or pot ash, and followed that with a coat of Danish oil "to pop the grain." He did some grain filling with thinned shellac and pumice, and then applied 10 coats of clear shellac. He rubbed out the final coat of shellac with Danish oil and 0000 steel wool, and then polished the piece with amber furniture wax.
For the full article, download the PDF below:
View PDF