Build a career at Fine Woodworking
Are you passionate about woodworking and media? Well, we're looking for help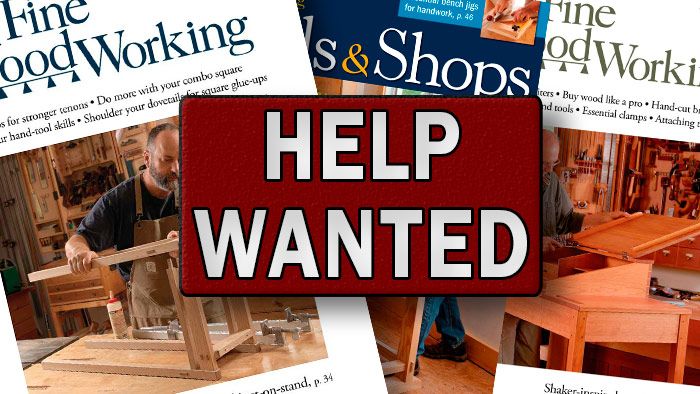 Did Anissa Kapsales' Dream Job blog make you wish you could come be an editor for Fine Woodworking? If so, you're in luck!
Assistant/Associate Editor – Fine Woodworking
If you love woodworking, Fine Woodworking has a career opportunity for you. We are looking for an assistant/associate editor to help us create content—in print and online—for the leading source of information on woodworking techniques and furniture-making design and construction. In this role you'll have a chance to travel the country, meeting legends of the craft; you'll also help us discover the next generation of legends. You must be a woodworking enthusiast (ideally, you're an active maker) and have at least a basic understanding of woodworking fundamentals.
Come join our creative team in a growth position at a progressive multimedia company. Offices are in Newtown, CT. To apply, go to careers.taunton.com – attach a cover letter and resume. Travel required. The Taunton Press is an Equal Opportunity Employer.
Specific Duties and Responsibilities:
Writes and presents complex information with clarity. You will be a front-line player in moving print articles from raw manuscript to layout, and be a creative influence behind video and other online content.
Works with authors to prepare proposals for staff review, and byline articles as needed.
Uses visual thinking skills to develop content that pops.
Active player in social media outlets.
Travels to visit authors and attend woodworking events, as well as to photograph assigned articles.
Works with editorial and art departments to develop photo and video sessions as needed.
Qualifications:
Have at least one year of experience in creating content across a variety of media, such as print, online, and social platforms.
Be deadline oriented while juggling multiple tasks in a fast-paced environment
Must have strong writing and editing skills, preferably related to print and online media.
Must have experience using MS Office, and knowledge of digital tools.
Must have personal woodworking experience.
Experience with photography and video is a big plus.
For more information visit the Taunton Press career site.