2017 Shop Resolutions
We spend a lot of time and effort practicing the more challenging elements of woodworking, yet in my case, sometimes let the simple but critical aspects slide by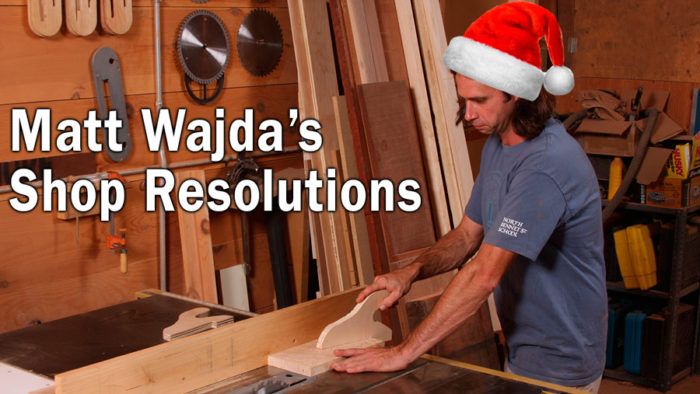 *Web Producer's note – I'm really excited to introduce my friend Matt Wajda to the blog section here on FineWooodworking.com. Soon we will be releasing a video workshop we produced with Matt at the North Bennet Street School. During our week together I was blown away with Matt's ability to teach high level techniques in a very approachable manner. The love of woodworking, and especially the love of teaching woodworking flows out of Matt. Videographer Jeff Roos and I both quickly noticed that Matt never stops teaching, even while stuffing our faces with Italian subs Matt was teaching us woodworking theory and techniques. It's a part of who he is and I hope that as readers of Fine Woodworking you too will learn as much from Matt as I have. -Ben Strano
A dear friend and very talented preservation carpenter told me that I am a lifelong student and teacher. My shop-life resolution for 2017 is to start living up to that. I teach part time at the North Bennet Street School, and I also teach a section of the Furniture Design Certificate at the Massachusetts College of Art. With all that said, I get asked a lot of questions regarding woodworking and craft. I'm realizing that I don't really listen to some of the answers I give.
Here's three times that I should heed my own advice:
I tell my students to always check the tooling, fences, and gates. Is the tooling adjusted correctly? Is the tablesaw blade set to the correct angle? Is the mortising machine chisel set up correctly? Are the appropriate blast gates open? Closed? All of these elements of good craftsmanship can be checked and adjusted correctly in minutes. Some remedies I am considering in my own work is to start leaving a 12-in. combination square out in the machine room. I have stations at each machine for clamps, fixtures, and tooling. I think a place for an extra square would be a helpful reminder to check.
I am fairly diligent with emptying the dust-collector barrels but I always forget to turn on the smaller air handler/cleaner. If I do remember, it doesn't really work because I haven't emptied and cleaned the filters. I've offered advice about it quite a few times, suggesting that people tie a couple of streamer flags to the exhaust end of their air cleaner. When the streamers are pointing straight out from the air exhaust, the machine is on and the filters are clean. When you turn on the machine and the streamers don't move, the filters are ready to be cleaned. My air cleaner still has no streamers tied to it.
I get asked a lot about going to the lumberyard. Mostly, the questions revolve around what they should bring with them. All of my tools have boxes and bags to keep them together. How come I don't have a tool bag to go to the lumberyard? The kind that always stays in the truck. The bag that has a notebook, pencils, gloves, block plane, and maybe even rope or ratchet straps. Food for thought.
This list of sorts started with a tablesaw blade that was not set correctly. We spend a lot of time and effort practicing the more challenging elements of woodworking, yet in my case, sometimes let the simple but critical aspects slide by. I know in the new year I'm going to keep learning, and there is certainly going to be a lot of teaching. Maybe in 2017 I'll start listening to my own advice.