Full-size Templates—A Unique Way
Creating full size templates from SketchUp is easier than you think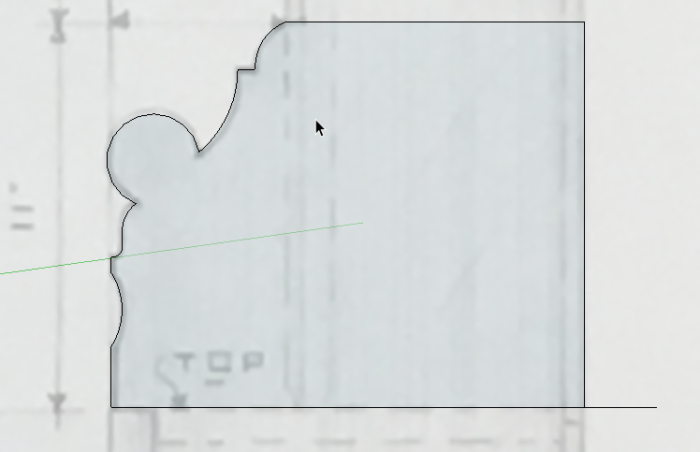 I produce a staggering number of full-size templates—sometimes exceeding a dozen for one piece of furniture. They are so easy to produce in SketchUp, and the more I create, the faster I can produce a piece of furniture. Not only are they used to re-create various arcs, tapers, and shapes, but also in the layout of dovetails and other joinery, turnings, inlay design, the location of pins, dowels, nails, and screws, and hardware installation.
If I had to produce these templates using plywood, or other wood and plastic products, my use of full-size templates would substantially diminish, and I'd be less efficient in the shop. It just takes too much time with these materials. I find thick poster board to be the best material. I buy it at art stores where I can obtain a thicker paper product than is available in typical school-grade poster boards. Using poster board allows me to use an X-Acto knife to cut the shapes.
Currently I'm building a Kitchen Dresser, circa 1750, with excellent bracket details and shapes. In fact, there are a number of beautiful shapes in this piece including the crown molding, scroll shapes in the sides and header, cutouts for the spoon rack, rounded feet, and dovetail joints. To re-create these shapes in the shop, full-size templates are critical.
Here is a view of the overall SketchUp model:
Here is a perspective view of the side component that includes many of the complex shapes.
And here are several of the templates needed in the shop – shown below in this order:
Crown Molding
Foot
Dovetails
Middle Bracket in Side Component
Spoon Rack
Upper Bracket in Side Component
Header
In the following video, I show how I produce templates in SketchUp with my home printer and 8 1/2 x 11 sheets. For my students, I use Layout and produce a PDF of full-size templates on large-scale paper. Thus students are not burdened with connecting multiple sheets of 8 1/2 x 11. But in my own work in the shop, I prefer printing on 8 1/2 x 11 sheets since the connecting of multiple sheets is quite easy and fast.
And here is a short video showing how I use the printouts from SketchUp to make the full-size templates.

Tim
@KillenWOOD