New life for old wood
An obsession with urban timber turns into a calling for San Diego woodworker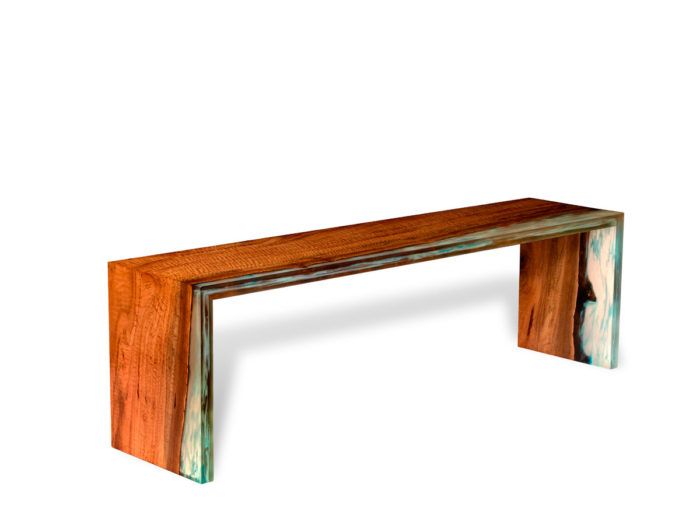 Usually when I am working on the Gallery for the print version of Fine Woodworking, there is a fair amount of back-and-forth with each furniture maker. I also go to each maker's website, if any, and look at their other work (not because I need to, but because it's interesting). Occasionally that small amount of research leads me down a rabbit hole into a larger subject.
That's what happened when I contacted Dan Herbst and Jessica Van Arsdale about their bench, featured in a two-page Gallery spread about the Design in Wood show in San Diego. Their company, San Diego Urban Timber, reclaims wood that is destined for the landfill, firewood, or mulch pile. The table in question used a slab from a 100-year-old standing dead eucalyptus tree they found and harvested in Yorba Linda, Calif.
The use of reclaimed lumber is not a particularly new practice, but it does appear to be a growing one, with urban timber companies in cities such as San Diego, Portland, Ore., Boston, San Francisco, and Minneapolis, to name a few. Dan's company has been in business for seven years, so I sent him a few questions.
What inspired you to work with urban wood? Can you tell me a bit about your history?
I was in the Master of Fine Arts Program at UCSD (University of California San Diego), and could see myself heading down a path of theory and computer-based applications to artistic expression. I couldn't do it—not my nature. So I left the program. I had an opportunity to work with my uncle on projects for his home. We spent a year and a half working through rooms and furniture, inside and out, using coveted salvaged lumber. During this time, I started thinking about urban wood as a viable material. Local artist Roman de Salvo loaned me a chainsaw mill, and I opened up my first log. I had caught the urban wood bug, and there's been no looking back.
I spent hours reading forums and researching best practices with urban lumber and applied them. Got obsessed. Built my first kilns and got busy. When one starts to look, and becomes aware of the massive wasted potential right in our own neighborhoods, it's hard to sleep at night. Each tree removal service that you see working seems like a missed opportunity.
I've been fortunate to have had partners and fellow urban wood lovers that have helped in solidifying San Diego Urban Timber. Currently we have an independent, part-time crew of fellow woodworkers, furniture makers, and artists.
Three years ago I joined forces with my now art/heart/business partner Jessica Van Arsdale. She has brought color and innovation to SDUT and is responsible for the resin work in our pieces. It's also fun for me as a man raised by powerful, capable parents to bring a woman to the jobsite who can out-log many men. We're proud to challenge the stereotypical roles in this industry and through example, show how to break out of previously held assumptions.
What are you working on now?
We're doing a build out in La Jolla called Gracie James. It's an artisan lifestyle store. We have used local Torrey pine and sugar gum eucalyptus as the main wood for fixtures and furniture. The store also intends to carry a line of our culinary platters and custom furniture. Our designs also include large resin pours to fill voids as well as casting live edges.
We are also doing a public art installation at UCSD, for the Stuart Collection in collaboration with John Luther Adams. This is the same school I left to pursue a more material-based relationship with art. UCSD has policies in place for their trees—take one out, put two in—and they try really hard to do something useful with the ones taken out.
We have taken trees off the campus, reworked them, and bring them back in new forms. This time it's benches.
You also sell slabs and dimensional lumber, correct?
We do sell dimensional lumber and slabs, as well as offer milling, kilning, and shop services.
How do you find your wood? Is there a particular species that you favor?
In the beginning it was a lot of pulling over and talking to tree removal services, handing out cards, looking on Craigslist. Today we get people calling in advance if they know a tree is coming down. The relationships with tree services are vital. When an arborist comes across a good tree, we get a call. There is less material for them to process, or the homeowner saves on removal fees. The process makes a smaller carbon footprint, and we get fantastic wood.
Eucalyptus is our tree. It's considered a trash tree and we make the most epic products out of it. But we love live oak, black acacia, avocado, sycamore, Torrey pine … the local trees are full of character from growing in urban environments.
Don't you worry about metal and other stuff inside the wood damaging your milling machines?
Sure, we do. Metal detectors are a must; they don't catch everything, though. To be honest, it's fairly rare that we really hit big, unexpected metal. To cover for this possibility, most mills charge a blade fee. We do the same. It's a gamble for the customer and the operator, but most of the time the wood is more than worth it.
If a woodworker wants to purchase or use reclaimed wood, where should they start looking?
Internet searches will drum up anyone with a mill who wants to be found. Search "urban lumber," or "saw mill." Investigate whether a local college has an urban lumber component to their woodworking program, like Palomar College.
Anything else you want people to know?
Time is the key to getting large wood slabs to cure properly. You just can't rush the drying process without investing in hugely expensive vacuum kilns. When we mill a hardwood log, we stack it and forget about it for at least 6 to 8 months —1 to 2 years is better. Then we can complete the drying process in our kilns. So patience and managing expectations becomes important when we get to do the job we love most: turning a customer's own fallen tree into beautiful, timeless furniture for their home.
For a video on San Diego Urban Timber, go here.
Reclaimed fence posts and black oak side table with internal shelf.
Outdoor bench for a client who wanted to maximize space. The frame is Douglas fir and the slats are redwood fence boards.
Salvaging a eucalyptus log
"Land, Water, and Air" bench uses a slab from a 100-year-old eucalyptus along with resin and reclaimed steel