Essential Clamp Kit
What clamps to have and why you should have them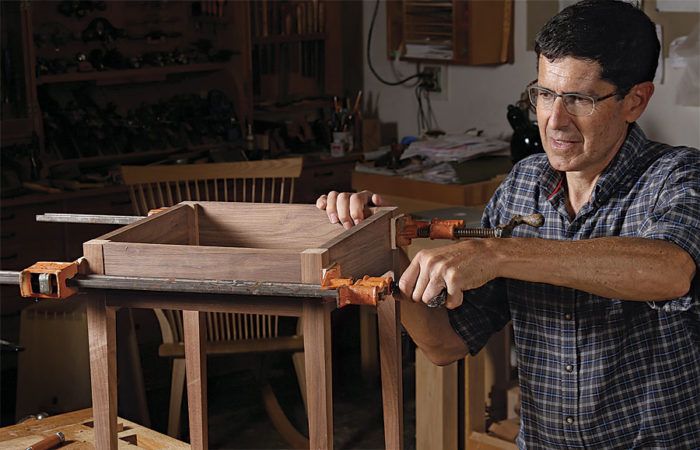 Synopsis: If you're just getting started building a collection of clamps for your workshop, here are some guidelines from someone who's been at it for quite a few years. From bar clamps to spring clamps, Jeff Miller provides a roundup of the clamps he uses every day, with advice on how many you'll need so that you can tackle any project.
The old chestnut is true—you can never have too many clamps. But which clamps you need depends on the type of work you're doing. As a general rule, you should buy the clamps best suited for the primary work you do, but you'll also need a more general selection of clamps for the wide range of projects and shop tasks you'll encounter. Assuming a finite budget, you'll need to make some choices to build an appropriate clamp kit for your shop.
After years of building custom furniture, I've come to learn what makes one clamp really shine, and what causes others to collect dust in the corner. Here's a roundup of the clamps I use every day that allow me to tackle any project or task quickly and efficiently, and some pointers on where to start if you're just beginning to outfit your shop.
Bar clamps are the shop workhorse. They excel at gluing up panels, assembling carcases, building chairs, clamping up large laminations, and even serving as a vise when working on shaped legs. They come in a variety of lengths and are capable of exerting a great deal of pressure, or of clamping gently if needed. Bar clamps also come in a variety of forms and prices, each with corresponding benefits and drawbacks. No matter which type of bar clamp fits your budget and needs, they will form the core of your clamp kit.
For the full article, download the PDF below:
View PDF