How to "Build" a Classic Sawhorse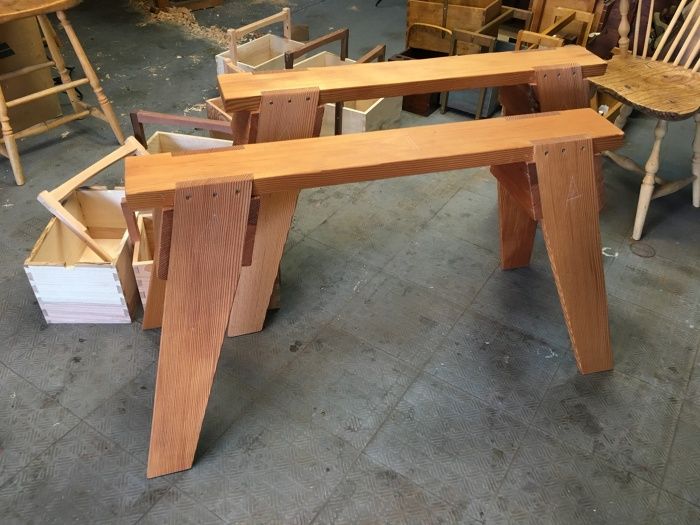 I'm in the process of replacing a pair of my 15-year old sawhorses that have been a key component of my workshop. I recommend the early Fine Woodworking article by Sam Allen Sep/Oct 1980, No. 24. Although his drawing is weak and without angles and dimensions, the text the article is quite informational. In the following steps and attached video, I will show how to "build" this classic sawhorse.
This is a photo of the author's drawing shown in the article. I imported to SketchUp and made it full-size, but it is not of much use in doing the modeling.
Here is a picture of the assembled model in SketchUp.
Wherever I can, I take advantage of symmetry in SketchUp modeling, as it eliminates redundant work (too bad this can't be done in the shop). In this case I can model-up one quadrant of the sawhorse, and then copy to all other corners.
The starting point in SketchUp – and in the shop – is the Saddle, a 2 x 6, 42-in. long. One quarter of this Saddle is a rectangular piece 2 3/4-in. W, 21-in. L, and 1 1/2-in. thick. To that I add a 1×6 Leg that is 28-in. long.
Note that the Leg is perpendicular at this point and the next steps rotate it into its compound angles. The angles are 75 degrees in both directions. See the video for the sequence of rotation.
With the above assembly, the most complicated feature is creating the gain in the saddle. With the Intersection feature mainly, a very accurate joint cutout is made. Here is the result with the Leg "hidden".

 
After several other steps as shown in the video, the quadrant is complete as shown below.
The combination of the two quadrants above, is then copied again and flipped to make two halves that are then combined for the complete sawhorse.
Here is the video:
Tim Killen
@KillenWOOD