A Period Music Stand – Williamsburg

Again this year, I attended the annual Colonial Williamsburg "Working Wood in the 18th C." conference. One of the pieces demonstrated this year, was a Williamsburg Music Stand 1750-1765. Bill Pavlak was the featured cabinetmaker on this mahogany tripod base reproduction.
This piece has a rectangular open base with ratchet grooves on each side for raising the flat rectangular surface with battened ends.
The top rests on a turned, cylindrical column, fluted for the main portion. This column has a square hole through its center to hold the bar that adjusts the height of the music stand.
There are three cabriole legs with slipper feet on pads. Each knee is carved with acanthus foliage banded at the center.
Here is an exploded view.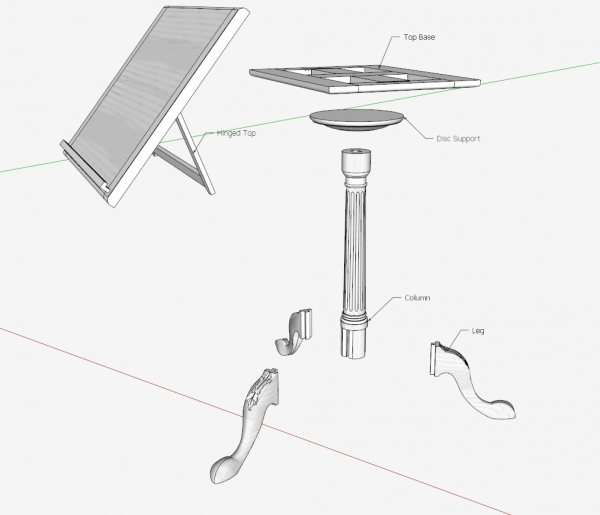 I started the modeling with the cabriole legs. The The side and top shapes were made based on pictures of the original piece.  
Here are those side and top profiles.
I used Solid Tools (Split) to make the intersection of the two profiles, although you can also use the standard Intersection funtion.
The knee of the leg has an acanthus leaf carving. I was able to reproduce a flat drawing of the carving as shown below.
I carefully placed the carving profile just above the knee of the leg. I also bent downward the lower half of the carving profile to better fit the shape of the knee.
I used the Push Pull Tool to extend the carving shapes right through the top surface of the knee. Then I executed an Intersection on that top surface to obtain a "branded" carving.
Here is the resultant "brand"….
The cabriole legs fasten to the column with dovetail joints. Unlike the dovetail joints, making the fluted column was very difficult, mainly because of the tapered turned portion. With patience, and many trials, I was able to get acceptable flutes.
There is much more work required to complete this model. I need to work out the square post that fits in the hole through the column for adjusting the height. The rough square column must be split in half to make this square hole in the middle. Then the two halves are glued together and mounted on the lathe.
Also there is more carving on the edges of the top rectangular section, and I haven't completed the mortise and tenon joinery.
Hardware will be added – mostly hinges in the upper rectangular section.
This will be a fun project in the shop with many challenges.
Here is the video:
Tim
@KillenWOOD