Throw away your tape measure – Go 32mm system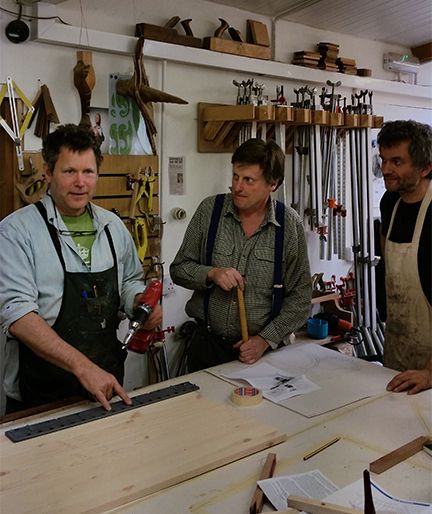 In my third year teaching at the Chippendale School of Furniture in Scotland, I am still amazed how this old world school approaches woodworking education. It provides current and pertinent information to its students to ensure their future success as professional craftsmen. This year, besides compound veneering, curved lamination, and cold bronze resin casting, another major topic I covered was the 32mm system.
The 32mm system is a method of assembling cabinet boxes that is now standard for most hardware sold today. It is a bit ironic that they brought over a Yankee to introduce this efficient method of cabinetry construction, since it was created to make rebuilding Europe after WW2 much easier, but I am not complaining. Scotland is beautiful in the spring.
I am a confessed radical preacher of the 32 mm system and have used it since the early 90's. In my opinion it is the only way to go for building any sort of cabinetry, large or small, from a single cabinet to multiple production boxes. It is extremely accurate, very quick, and I can assemble with the utmost confidence without double checking any measurements before a cut.
In brief, it is a series of precisely placed 5mm holes drilled 32 mm (millimeters) apart in the interior sides of a cabinet box. All hardware aligns for quick-very quick-installation of door hinges and drawer slides, not to forget the obvious adjustable shelving pin holes. By using this system, left OR right doors can be install and reversed, drawers locations and sizes can be substituted, and all this hardware easily and VERY accurately aligns to these 32mm holes.
The bottom line is, once the holes are located, there is no need for any more measuring to install these components. Did I mention it was easy, quick, and accurate?
Let me explain a bit more. The majority of today's cabinet hardware has euro holes-screw holes made for the 32 mm system, as well as other installation holes for the unenlightened. With these holes, the hardware is quickly installed without pre-drilling, adjusting, double-checking for consistency, or the like.
Imagine not having to measure for a hinge or multiple hinges, and matching it up to a door. Or knowing that the drawer slides are perfectly parallel with consistent setbacks without ever measuring. Let me repeat: no measuring. It really is a dream; everything simply snaps into place.
It all works around placing these series of holes exactly in the right position, typically 37 mm back from the front edge of a cabinet box, and symmetrically or centered on the vertical axis. This can be achieved with a simple hand held drilling guide and cordless drill, or an inline boring machine that drills multiple holes all at once. Either way, once these holes are bored there is no more measuring for the hardware installation.
Obviously there is more to it than I can explain here but I am encouraged that the Chippendale School is introducing this system to their students. More and more woodworkers are using European hardware, like concealed hinges and under mount slides, and using this hardware without utilizing the system it was designed for is just plan archaic. 
I applaud The Chippendale School of Woodworking and encourage all woodworkers to embrace this 32 mm system. By learning the fundamentals one can quickly and accurately install the majority of today's cabinet hardware in a faction of the time from the old school way. I am happy to say I will be returning the Scotland in the spring for another round of 32mm contruction, in addition I will be sharing this information at Marc Adams School of Woodworking in the fall of 2016.
Please throw away your rulers and go 32!
drilling 32mm holes with a simple hand held jig and a cordless drill
Installing undermount concealed drawer slides is easy and they align to the 32mm holes inside the cabinet for quick installation.
A typical kitchen cabinets showing how either a single door or a drawer and door can be installed with the same 32 mm layout.