SketchUp 2016 Released Today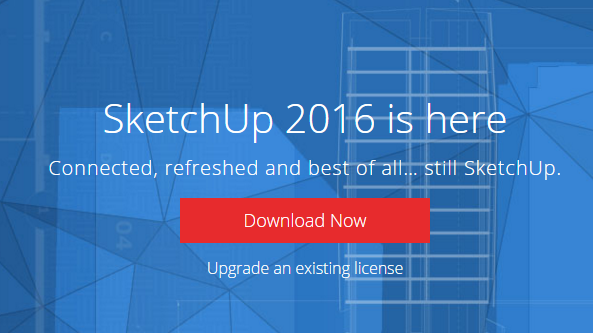 SketchUp 2016 just released. This will be a key release for many folks because it is designed to work with Windows 10 and Mac's El Capitan operating systems. In addition to the OS support, there are a number of new features. On the PC, the utility windows for things like Entity Info, Components, Materials, etc. all live in a tray on the right side of the screen so they don't cover your drawing space. There's a default tray that opens initially but you can customize it or create new trays. Although I prefer to keep the tray visible because it mimics the way I've had SketchUp set up for years, you can make the tray collapse to the side ifg you don't want it to show. You can see the tray in the the following screen shots.
They've improved the inferencing tools making it easier to work in the 3D space. Here are a couple of new examples. First, if you are inferencing off of an edge as in the next two screen shots, SketchUp highlights those edges making it easier to know exactly what you're work from.
For circles, SketchUp will identify the center when you hover a tool on the edge.
And with arcs, the ends and center are identified. In both cases, you can then easily move the tool to the center and work from there. So if you wanted to draw a hexagonal hole in the center of a circle, it is easily and quickly done.
Here's a video from the SketchUp folks with more on inferencing.
There are a number of other features that have been added to the pro version which will be handy for some folks. These features include report generating improvements and some available cloud-based services.
In LayOut 2016, which is also part of the SketchUp Pro package, there are some new options for working with small dimensions which is exciting to me because I do frequently create dimensions for small details. You can see some dimensions with leaders as well as a dimension with the arrows on the outside of the extension lines. LayOut does these automatically now which makes creating dimensioned drawings a walk in the park.
There are improvements to the way layers are accessed and how they are used in LayOut and many other improvements.
I'll probably go over a number of the improvements for both SketchUp and LayOut 2016 in the coming weeks but in the meantime, you can check it out for yourself at SketchUp.com. Go ahead and download it and start using it for yourself.
In case you haven't gone through the upgrade process with SketchUp before, the older version you already have will not be removed or otherwise distrubed. Don't remove the old version before installing the new one. Leave it in case you want to go back or in case you wish to copy materials, components or styles you've saved with the older version.
As for extensions and plugins, the best option is to install fresh copies of the ones you use either via the Extension Warehouse which you'll access through the SketchUp Window menu or via the Sketchucation ExtensionStore. In factthe Sketchucation Extension Store can be a big help because it can install fresh copies of all the extensions/plugins that you have in a bundle. I know this part can be tedious but it is definitely worthwhile because there have been updates to many extensions and plugins and the older versions might cause you problems.
Give it a go and see what you think.
–Dave