Vacuum Pressing Systems - Unibond ONE veneer glue
A one-part glue that spreads easily, has a long open time, and dries quickly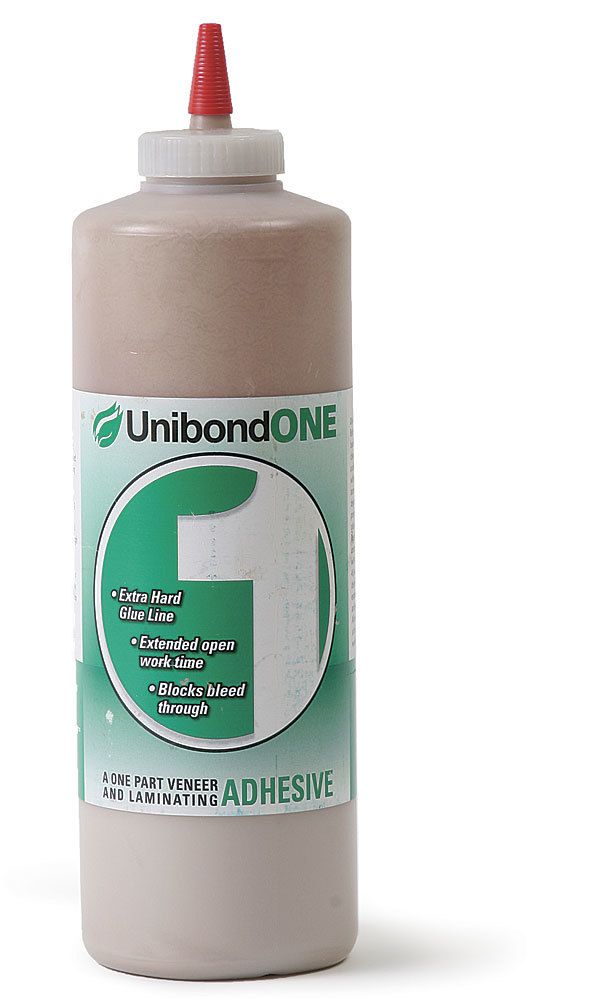 Friendly glue for simple veneer jobs
WHEN IT COMES TO VENEERING, the key to success is getting the thin veneer to adhere to its substrate evenly and without moving, or creeping. Otherwise, you end up with gaps between veneer sheets. That's why most experts use adhesives that create a "hard" glueline, where the bond between the substrate and the veneer prevents any creep.
Hide glue and urea formaldehyde glue yield the desired hard glueline, but both have disadvantages, especially for those new to veneering. Hide glue can bleed through the veneer, reactivates with heat, and takes much longer to dry than other glues. Urea formaldehyde glue is preferred by many experts not only for flat panels but especially for complex curves. But it is more expensive than hide glue and requires careful mixing and the use of additives to block bleed-through. And temperature affects its shelf life, pot time, assembly time, and clamp time.
Polyvinyl acetate (PVA) glues, on the other hand, have been unsuitable for veneering because they produce a soft glueline that is prone to creep. But Vacuum Pressing Systems has a new kind of PVA formulated specifically for veneering. Unibond One is a one-part glue that spreads easily, has a long open time, and dries quickly (two hours in clamps is the norm). Best of all, though, it cures to a hard glueline and won't bleed through. I have used it with great success on jobs ranging from simple flat tiger maple panels to four-way "book and butt" matched veneer panels. For everyday, simple veneer glue-ups, Unibond One cannot be beat, especially if you're just getting started in veneering.