SawStop - SawStop JSS-MCA Job-site Tablesaw
Mobile saw is at home in the shop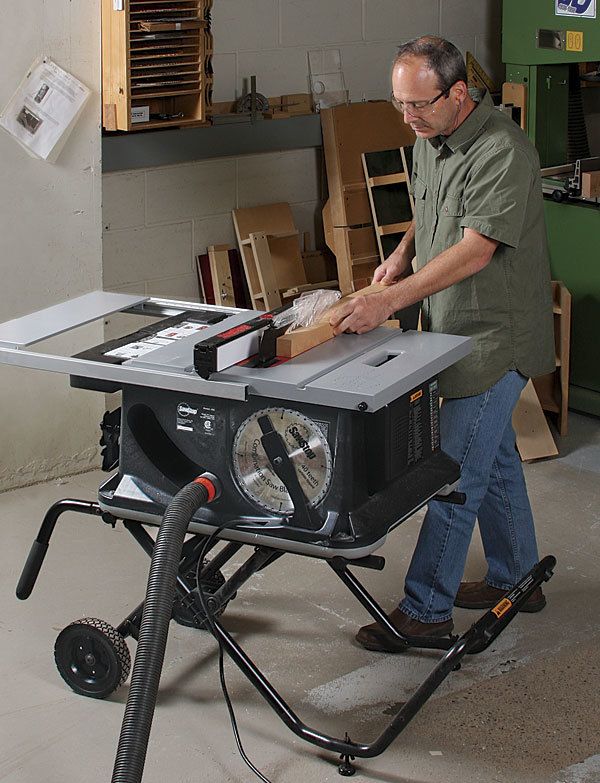 Mobile Saw is at Home in the Shop
Although it's designed for the construction industry, I took SawStop's new job-site saw into my shop and tested it to see if it would pass muster as a furniture-making tool.
The saw can be folded up and set against a wall, taking up very little space. The collapsible stand is outfitted with wheels, making it easy to move. The saw has convenient onboard storage for the fence, miter gauge, spare blade, spare brake cartridge, and wrenches—it even has a spot for a tape measure.
The 15-amp universal motor had ample power. It handled 3⁄4-in.-wide dadoes without any trouble, and I was able to rip 8/4 hard maple (although I did have to slow the feed rate). The cabinet has a 21⁄2-in.-dia. dust port connected to a shroud around the blade. Hooked to a shop vacuum, the saw did a very good job capturing chips and dust, especially with the blade guard in place.
Blade adjustments were easy. One turn of the heightadjustment wheel takes the blade from below the table to full height. Despite this quickness, it was easy to fine-tune the blade's height. Angling the blade was just as fast. A quick release on the height-adjustment wheel allows you to tilt the blade in 1° increments, and there is a separate wheel for microadjustments of the angle.
I do have a few complaints. The motor is loud. I measured the noise level at 100 db. from 3 ft. in front of the saw, and slightly higher from behind it. The saw's table is small. There is only 6 in. of table in front of the blade, which makes crosscutting with a miter gauge tricky. And speaking of the miter gauge, I'd replace it with a larger and more sturdy aftermarket one right away.
Overall, despite the complaints, it's a solid little saw, ideal for furniture makers with small shops or those who need to pack away their shops when not in use.