Turned Cylinder or Paper Towel Roll?

I rarely use Materials and Textures in my SketchUp files. While these are critical features for many SketchUp users, I usually avoid making hardware and wood look more realistic in my models. I'm anxious to leave the computer (with clean dimensioned drawings) and get into the shop where a "pretty picture" is just not that helpful. 
Recently, however, I found myself looking for a better "look" for my model of a simple kitchen paper towel holder. I wanted that paper towel roll to look like it really is not just a bare cylinder.
Here's the bare cylinder……
My first step was to use my iPhone to photograph the paper towel. I tore off a couple segments, laid it flat on the floor, and from above took a picture straight on.
The next step was to copy the cylinder and create a plate that had the same height as the towel roll.
Then I clicked on File "Import", made sure that "As an Image" was chosen, clicked on the picture of the paper towel, and pasted it on the rectangular plate in the lower left hand corner. Then I expanded the size until it was matching the overall height of the plate.
The next step is to right click on the picture and select Use as Material. This will cause the new material to show in the Material Dialog Box as shown below.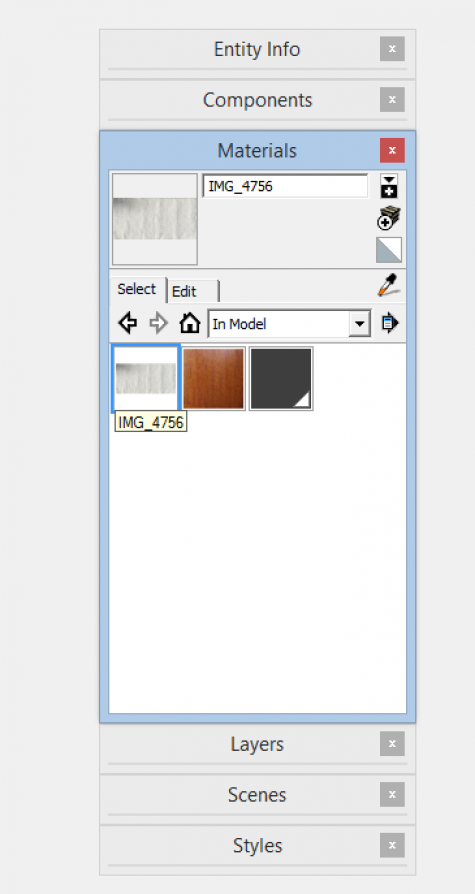 The final step is to open the cylinder component for edit, click on the paper towel material, and click on the surface of the cylinder.
Here is the result….. there is some shadowing and a seam that is caused by the initial photo. Lighting is difficult to get just right. However, this does definitely differentiate the paper roll from the remaining wooden parts.
Here is the video…..
Tim
@KillenWOOD