Trees trained to grow into furniture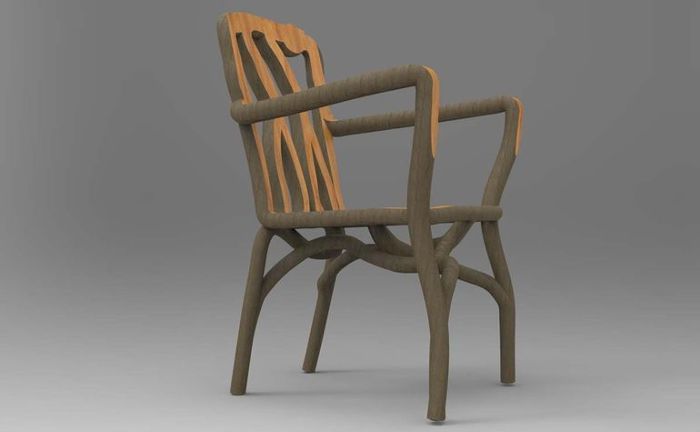 As a young boy playing in his garden in England, Gavin Munro noticed an overgrown Bonsai tree that had grown into the shape of a chair. That idea planted a seed. A few years later, while he was stuck in a frame after several spinal surgeries, that seed began to germinate without him really knowing it. "It's where I learnt patience. There were long periods of staying still, plenty of time to observe what was going on and reflect."
Twenty-five years later, after attending art college and apprenticing with a cabinetmaker, the idea fully flowered. While making driftwood furniture from twisted limbs near San Francisco, Munro suddenly realized he could grow trees into useful shapes. He returned home to England, bought a small 2.5-acre farm, and began to do just that, coaxing willow trees over plastic forms to create precise yet beautifully organic shapes, with nature supplying the joinery.
"It was only after doing this project for a few years a friend pointed out that I must know exactly what it's like to be shaped and grafted on a similar time scale," Munro says.
"In essence its an incredibly simple art," he says. "You start by training and pruning young tree branches as they grow over specially made formers. At certain points we then graft them together so that the object grows in to one solid piece – I'm interested in the way that this is like an organic 3D printing that uses air, soil and sunshine as its source materials. After it's grown into the shape we want, we continue to care for and nurture the tree, while it thickens and matures, before harvesting it in the Winter and then letting it season and dry. It's then a matter of planing and finishing to show off the wood and grain inside."
"The whole process takes place over seasons and years – between 4 and 8 years to grow a chair – but when you look at how long and how much effort it takes us now to go from having no tree to the final wooden object, then you realise that the craft we're a part of developing is not just more cooperative with the natural world; it has an elegant efficiency all of it own."
Munro's amazing endeavor is nothing new, he points out, citing a number of examples from history. "The ancient Greeks & Egyptians grew stools and the Chinese dug holes and filled them with chair-shaped rocks and grew tree roots through the gaps."
For much more about Munro, his story, his techniques, and his beautiful wood products, go to his site: http://fullgrown.co.uk/
This chair was grown from a single willow tree.
Gavin Munro ties the shoots and branches onto custom plastic frames to get the desired effect, grafting on additional shoots as needed.
After the wood dries, Munro planes surfaces as needed for comfort, and applies a finish.
The idea came from working with driftwood, Munro says, as well as a few profound childhood experiences.
The work involves mostly good-old-fashioned farming.
These trees will become chairs.
And this one will become a mirror frame.
It all happens on this beautiful 2-1/2 acres in Derbyshire, England.