Bosch Releases a Flesh Detecting Table Saw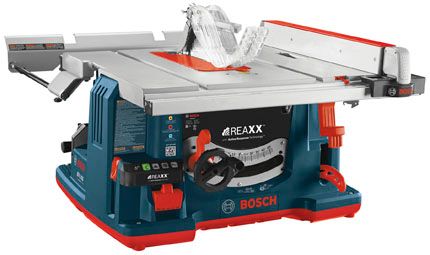 Each year, nearly 70,000 professional woodworkers, carpenters, and do-it-yourselfers suffer some sort of tablesaw blade contact. That's a lot of money spent on health care and lost productivity, and a big burden on craftsmen and women who often wind up losing fingers. Back in 2002, Steve Gass revolutionized the power tool and machinery industry with the release of the SawStop tablesaw, and we've been waiting to see if anyone else could do it ever since.
According to Bosch Power Tools, it's now been done. On March 18, 2015, Bosch announced the release of the GTS1041A Reaxx Jobsite Tablesaw. According to Bosch, the saw uses a proprietary flesh-detecting Active Response Technology, which rapidly detects human flesh that comes in contact with the blade and drops the blade below the tabletop. While this sounds somewhat similar to SawStop technology, Bosch announced a handful of other features that differ from the grandfather of super-safe tablesaws including a 60-second system re-set, and a two-shot cartridge that allows for two activations before replacement is required. And according to Bosch, this high-speed action happens without damaging the blade.
Look for more developments on this breaking story in the coming days here at FineWoodworking.com. You can bet that we'll be working the phones on this continuing story.