Woodworker donates all sales to Third-World kids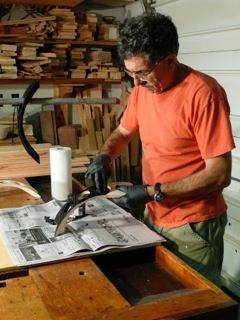 After a day of teaching middle- and high-school technology in eastern New York, John Roccanova likes to retreat into his shop to design and build. A few years ago, he says, "I realized that my wife didn't need another jewelry box, pair of earrings, or cutting board. My children had outgrown toys and they didn't need any new furniture. And the former church turned barn that my wife and I were renovating into our house was, after many years, finally near completion. So what was I going to make? Who was I going to make it for? I still wanted to stay active in my shop and had plenty of ideas for projects."
Roccanova, and his wife, Jean, were touched by stories they had read about overcrowded schools in Africa. They decided to hold a crafts sale with the goal of sponsoring one teacher in Kenya, to help reduce class sizes.
Since then the couple has sold John's woodcrafts to raise money for educational, agricultural, and environmental projects throughout the Busia district of Kenya. They've also donated craft sale money to victims of the earthquake in Haiti, and to a Kenyan student, to cover her high-school and university fees.
Since they started, they have raised and donated $31,000. To reach out to John about donating or doing domething similar, email him at [email protected].
John Roccanova has raised $31K for projects in Kenya and Haiti, by selling his woodcrafts.
He raises money by selling at regional craft shows, like the Fair Trade Bazaar at Vassar College, in NY, and by donations sent to the nonprofit he started, Grow Against Poverty. 
This girl, Sussy, and her family, were able to buy chickens, and a Roccanova family friend sent Sussy this dress.
Proceeds also went to build a new classroom and buy food for these students in Kenya.
Roccanova sells small items like this box.