Tool Test: Wiping Varnishes
Which products work best for wiping and brushing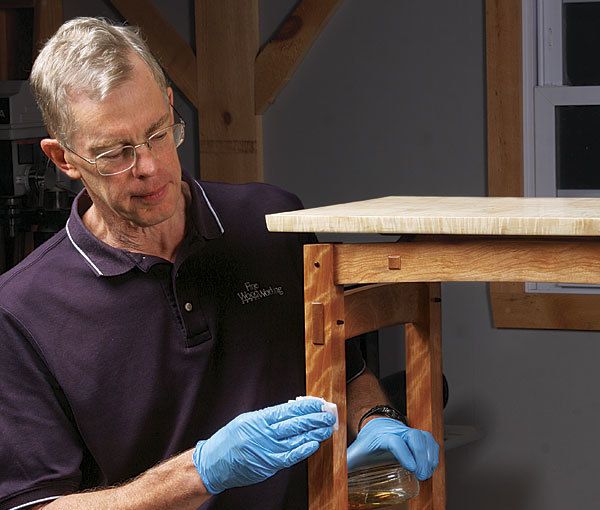 Synopsis: Wiping varnishes promise to work well for both brushing and wiping—wiping where there is less wear, and brushing where you need more durability. We tested 16 wiping varnishes, looking for the ones that are easy to apply and give great results on a variety of woods. We tried them on both plain cherry and curly maple, evaluating the clarity, depth, and durability of the cured finish.
Brands tested include: Formby's Tung Oil Finish, General Finishes Arm-R-Sea, General Finishes Seal-A-Cell, General Finishes Wood Turners Finish, Minwax Antique Oil Finish, Minwax Fast-Drying Polyurethane, Minwax Tung Oil Finish, Minwax Wipe-On Poly, Phoenix Finish-All, Sutherland Welles Murdoch's Hard Sealer, Sutherland Welles Wiping Varnish, Watco Wipe-On Poly, Waterlox Original Sealer/Finish, Zar Tung Oil Wipe-On Finish, Zar Ultra Max Wipe-On Poly
It's no surprise that so many woodworkers love wiped-on finishes: They are hard to mess up, and the oil soaks in and highlights the carefully chosen hardwood below, adding an elegantly low sheen. But a thin, wiped-on finish doesn't offer enough protection for a high-wear area such as a tabletop or chair seat. In those cases you reach for a brush to build a thicker finish.
That's why the ideal finish could be brushed and wiped on equally well. You could use that one finish in a variety of combinations, such as wiping it on a table base where there's less wear, and brushing it on the top for durability. And with only a single can on the shelf, you would save money and waste less.
There are finishes that promise to work for brushing and wiping. Officially classed as "wiping varnishes," they basically are oil-based varnishes that are thinned with solvent, and then, unfortunately, sold under a bewildering variety of names.

Fine Woodworking asked me to test these finishes to find out which ones work best for both brushing and wiping. Preparing for this test, I knew it wasn't going to be easy to identify all of the possible candidates. I contacted each relevant finish manufacturer and simply asked which of their products could be both wiped and brushed. Like the names and instructions on the cans, the manufacturers' answers were not very clear. A few were confident their finishes could be applied both ways; a few stated categorically that their wiping finish couldn't be brushed; and some fence-sitters said they didn't recommend brushing "but it would probably work." Based on their answers, I identified 16 finishes to test. Where there were different luster levels available, such as gloss, satin, etc., I went with the gloss version. The only exception was Zar Ultra Max poly, which was available only as semi-gloss, but looked like gloss anyway in practice.
Once I had the finishes in hand, I first made sure that every one was a true wiping varnish, which is simply a thinned varnish, and not an oil-varnish blend or simply oil. After this initial test, one finish—Sam Maloof Poly/Oil Finish—fell out of the running.
For the full article, download the PDF below.
View PDF