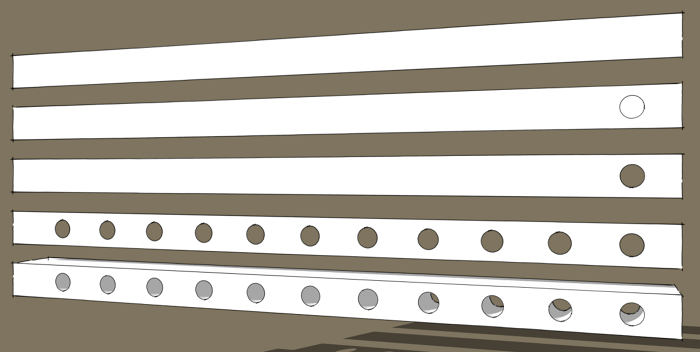 In Tim's recent post he showed a way to draw a series of holes in a "board". He surmised in his video that there're probably more ways to draw the holes. Well, he was right. Here's one other way, anyhow. Tim talked about delaying the use of the Push/Pull tool until after all the holes are outlined. He made the 3D shape of the board prior to drawing the circles. In this method, I'm going to wait to make the board 3D until after I have the holes.
From the top down:
-Draw the face for the board with the Rectangle tool.
-Draw the circle for the first hole.
-Select and delete the face inside the circle.
-Select the edge of the hole and copy it. SketchUp automatically erases the faces for all the rest of the holes.
-With one Push/Pull operation, push the board's face to create the thickness.
It seems that this automatic deletion of faces is not very well known by many people. I don't remember ever reading anything about it in any books I've seen. It is a handy feature though.
Here's a video that shows the above process. At the end of the video, I also show an alternative approach for times when you might have to copy a hole and need to divide the face. Instead of tracing an edge segment as Tim showed, I used Intersect faces.
Tim suggest there might be a plugin for drilling those holes. There are indeed. But, for something as simple as this, there doesn't seem to be much point chasing down a plugin when the native tools do the job just fiine.
–Dave