STL 69: Mike's Goldrush Doppelganger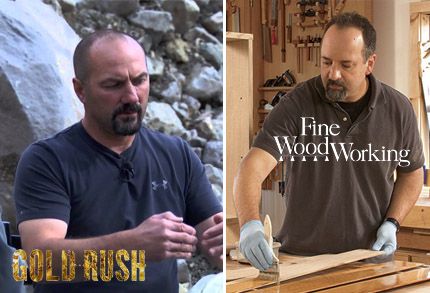 STL 69: Mike's Goldrush Doppelganger
This week on Shop Talk Live, a listener wants to know how Fine Woodworking's executive art director, Mike Pekovich, could possibly have time to appear on one of the most popular shows on television. Have we found Mike's doppelganger?
Plus, Ed reports on a lucky stroke at a neighborhood tool sale and questions on handplanes, milling painted wood, and a whole lot more.
Every two weeks, a team of Fine Woodworking staffers answer questions from readers on Shop Talk Live, Fine Woodworking's biweekly podcast. Send your woodworking questions to [email protected] for consideration in the regular broadcast!
Click on the link at left to listen to the podcast, or catch it in iTunes. Remember, our continued existence relies upon listener support. So if you enjoy the show, be sure to leave us a five-star rating and maybe even a nice comment on our iTunes page. And don't forget to send in your woodworking questions to [email protected].