AWFS: A Super-Glue for Furniture Makers?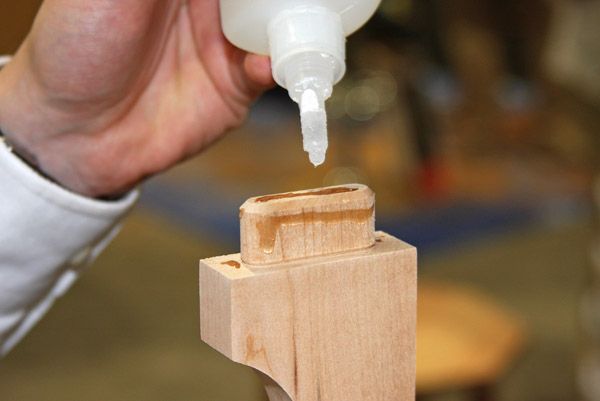 Bioformix has a big group of investors convinced that their new formulations of cyano-acrylate glues, called Nexabond 2500, will change woodworking. And yesterday, company president Adam Malofsky finalized his first retail deal, with Woodcraft, he told me.
According to Malofsky and his team of chemists, existing CA glues were formulated for metal, but his guys have unlocked the chemistry to slow down the drying properties. Until now the instant versions were mostly the realm of turners, making quick repairs. Nexabond on the other hand comes with three different set times, in versions labeled S, M, and L, for slow, medium, and long.
They recommend Nexabond 2500L for furnituremaking, as it boasts the longest open time, 20 minutes, and working time, another 5 to 10 minutes for most woods. Along with peppering the Bioformix team with a dozen tough questions, I had a chance to see the stuff in action.
They actually had a few dry-fit tables on hand, taken from a FWW article, just to prove to us how well the stuff works. Granted the table was pretty basic in design, and didn't require a ton of adjustment time, but their demonstrator only had to drip a bit of the stuff on a tenon, knock it home with a mallet, and throw a Quick Grip clamp across the assembly to make sure it didn't move for 5 more minutes.
Done, cured, with no squeezeout, and as strong as any other glue, the company says. Even if you have squeezeout, finishes soak right into it. Five minutes later, the whole table was together and done.
I explained that more complex glue-ups would require more working time, and they promised on the spot to formulate an XL version with a working time of 20 minutes (after the joints are together).
For now, you should look for the current versions coming soon to Woodcraft and elsewhere. Because you use so little, a 4-oz bottle of Nexabond ($16.50 at retail) is equal to 16 oz. of yellow glue.
There is a lot more to know about these innovative glues. Go to Bioformix.com for more info.
You just drip a bit of Nexabond onto one part of the joint, in this case the tenon, and then join the parts. No spreading the glue around, none needed in the mortise, and no squeezeout. And the joint is fully cured in 5 minutes.
Nexabond is pricier than yellow glue, but not as much as you might think, because of how little you need in comparison.