How to Change a Bandsaw Blade
Do it right, and the results will amaze you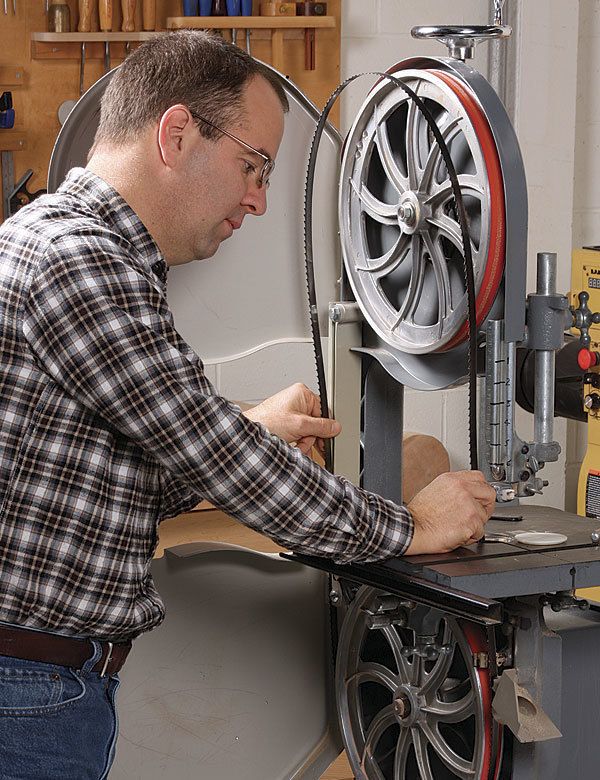 Synopsis: If you've been fighting to follow a straight line when resawing on the bandsaw, you'll be amazed at how easy it is to make clean cuts with a fresh blade that's properly installed. Learn how to avoid common bandsaw problems like blade drift and bumpy cuts, simply by changing your blade.
Most bandsaw problems are blade related. Choose the right kind, tension it properly, replace it when it gets dull, and issues like blade drift and bumpy or "barrel" cuts will be problems that happen to other folks. Like many of you, I used to put off changing my bandsaw blade, choosing to soldier on with subpar results rather than order a new one, wait for it to arrive, and then struggle through the changeover process. But the job doesn't have to be stressful.
My method is quick and painless. And when you make your first clean, effortless cut with a new blade, it will be clear that the time was well-spent.
Change the blade before drift sets in
As blades dull, they start to resist the cut, twisting to one side or the other. This causes them to dull more on one side, which leads to even more twisting and makes it all but impossible to make straight cuts. It's called blade drift. Many woodworkers try to overcome it by angling the fence or cranking up the tension—which only causes more problems. If your blade was installed properly and the saw was working fine, drift is a sure sign that your blade is dull and it's time to install a new one. With some experience, you'll start to notice your blade getting dull before drift sets in, because you'll need to push harder than usual, which also causes the blade to twist.
Remove the dull blade
After unplugging the saw, retract all the blade guides, both above and below the table. Remove the throat plate and that little plug in the side of the table that keeps the two halves aligned. Remove any blade guards if your saw has them.
Now you can remove the dull blade. Open the doors and turn the tension crank until the blade is loose. Take the blade off the wheels, turn it sideways, and thread it out the slot in the table.
Install and tension the new blade
With the blade off, it's a good time to clean the bandsaw tires. Built-up sap and sawdust on tires can interfere with how the blade tracks. To remove it, I use the edge of a steel ruler, holding it perpendicular to the tire as I spin the wheel with my other hand. I find this method preferable to using mineral spirits (which might degrade the tire material) or water-based cleaners (which can promote rust).
For the full article, download the PDF below:
View PDF