A Basic Woodworking Bench That's Quick To Make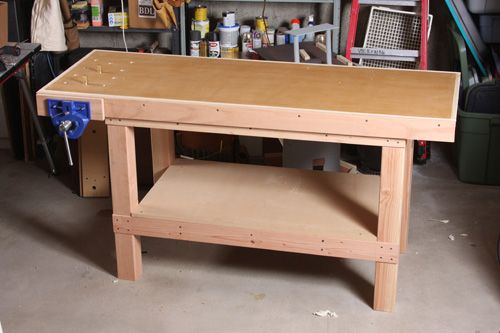 Having a job at Fine Woodworking definitely has its perks. Aside from traveling the country to visit some of the best woodworkers of our time, we get to play-I mean work-in a sizeable, well-equipped shop, just next door to our office.
One of the best tools, aside from our monster jointer, is the beefy bench in our hand-tool room. For me, it's been a blessing, and a crutch. It's such a nice bench that I've been neglecting building one of my own for my basement shop at home. But I finally got it done.
My bench is no monster. I didn't want a massive, heavy bench because my space is fluid-I need to move stuff around the space quite often-so I built a basic bench.
For the legs I used Doug fir 4x4s. The front stretchers and aprons are 2x4s, joined to the legs with half-laps and reinforced with glue and screws. The front and back assemblies are connected to one another with a series of 2×4 crosspieces.
The top and lower shelf were cut from one sheet of 3/4 in. thick MDF. The top is a double layer screwed and glued together. I screwed the shelf to the crosspieces. To attach top I used L-brackets-easy as pie. The entire assembly makes for a very rigid bench.
I edged the top with hardwood, installed a 7-in. quick-release vise, drilled the dog holes (see photos), and now I'm ready to roll. I still plan to add a tail vise. For that I'm going to use a small 4 in. metal vise I picked up at a tag sale, and I'll drill a few more dog holes along the front.
Having the bench has helped me get better organized, and best of all, I have a place to handplane at home without having to jigger up ways to hold workpieces. And I got it all done for less than $100. (Confession: I did have a gift card that helped pay for the vise.)
It's not a monster. But my bench is a great shop helper. It's 33 1/2 in. tall by 66 in. long by 24 3/4 in. deep. The lower shelf is 24 1/4 in. wide by 41 in. long. It will be a place where I store my soon-to-be-made bench jigs, like a saw hook.
Guide for dogs. To drill the benchdog holes perfectly vertical, I made an MDF guide block. I laid out the holes on blue tape on the benchtop and aligned the guide-block hole over each mark. To help support the benchdogs, I extended the hardwood spacer block for the vise all the way to the back of the bench.
Drill, baby. With the guide block clamped to the benchtop, I drilled the dog holes, one by one. I used a 3/4 in. Speedbor Max bit from Irwin. The bit flew through the MDF layers, but once it hit the oak spacer block the self-feeding nature of the bit became a problem. It simply was too aggressive and jammed frequently.
Safety net gone. Once the hole was started enough, I removed the guide block and finished the job. Chips were easier to clear without the guide block in the way. I kept the square in view to check that I was still working vertically.
Dogs, unleashed. With my vise installed and dog holes done, I'm ready for handwork.