Student work shines at Santa Fe show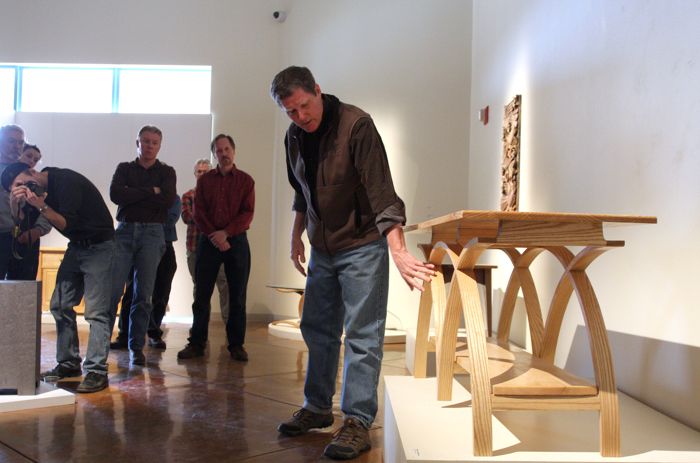 Spend some time browsing the art galleries on Canyon Road, and you might conclude that Santa Fe is strictly for the painters and potters, sculptors and silversmiths.
But the furniture makers are here too, in the occasional gallery and, more importantly perhaps, in the foothills south of town – at Santa Fe Community College. During a photo shoot last month, I stopped by to visit what one student told me was the school's "hidden gem" of a woodworking program.
Furniture maker Michael Hoffer – the program's director – showed me around the shop: three 1,200-foot rooms housing a dozen benches, a full complement of machines, a spray booth and storage for projects, tools and lumber. Down the hall is a turning studio with eight lathes. The facilities have come a long way, he said, since he and fellow Redwoods alum Robert Lasso started the progam in a maintenance room in the early 1990s.
As it happened, my visit fell during a student-faculty show in the on-campus gallery that featured more than two dozen pieces of furniture, sculpture and turnings. The afternoon included a gallery talk in which the makers presented their work. The crowd heard from several students and faculty members, almost all of whom are active furniture makers or wood artists themselves.
Student Kathy Knorr said that faculty experience is part of what makes the program so attractive. "Their knowledge and ability to share the craft is extraordinary," she said.
The program offers a Certificate in Fine Woodworking (39 credits) and an Associates in Applied Arts in Professional Crafts with a concentration in Woodworking (70 credits). The certificate focuses on a core of woodworking classes, while the degree plan adds courses in business and entrepreneurship as well as drawing and design. The faculty includes half a dozen accomplished furniture makers.
The students range from teenagers to retirees. When Michael told me that some students have moved to the area specifically to enter the program, I had no trouble believing it. I live two time zones away, but found myself wanting to sign up for the fall semester.
Student Michael Klosterman discussed the bent lamination technique he used to create the arched legs for his ash console table.
Instructor Michael Hoffer helps student Carrie Mouck Compton troubleshoot a case glue-up for a wall-hung cabinet.
The program's machine room houses two cabinet saws along with a full array of other milling and joinery machines.
Student Chris Julsrud works on a natural edge bowl.
Student Elena Underwood buffing a spalted bowl.
Table by student Richard Herbst. The top is glued up from multiple thin laminations of ash, bent parallel to the arc cutout and then trimmed. With coopered and angled walnut feet.
"Sphinx Chair" designed and built by instructor Larry Buechley with his wife Nancy Buechley.
Instructor Doug Jones built this console table from Kirei board and masonite, with split-turned legs of milk-painted poplar.
Program director Michael Hoffer built this split-topped table / bench of doussie - an exotic hardwood known for its density, water resistance and warm red-brown color. The undulating series of cylinders underneath is made of long slender beads called "hair pipe," used in Native American ceremonial dress.
Vessel by turning instructor Al Mirman. He used a dental drill to create the pierced-work decoration.