New Woodworking Machinery Maker Hits the Ground Running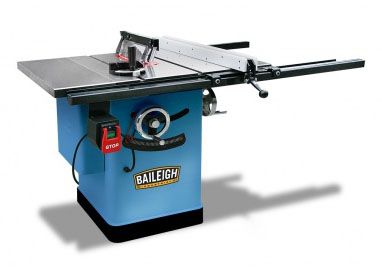 It's been a tough run for a lot of companies since the recession hit the U.S., but it's been particularly rough on manufacturers of woodworking machinery. With consumers tightening their belts, cutting back on hobby money, it's no surprise that these manufacturers are hurting, with very few new tools being introduced.
---
MORE FOR TOOL NUTS
---
---
But despite the down economy, one Wisconsin manufacturer has decided to cross over from metalworking into woodworking. And they're not just dipping in their toes. It's a full-on cannonball into the seas.
Baileigh Industrial, a leading maker of metalworking tools since 1999, started selling woodworking machines last December. The line-up isn't small, either. You can choose from a full offering of machines, including tablesaws (contactor and cabinet models), bandsaws small and large, jointers, drill presses and more. Right now, the company is offering free shipping on orders within the contiguous 48 states, but don't wait; this offer is due to expire in about a month, says a company rep. Baileigh has showrooms in Wisconsin and California, with sales offices across the country.
We're looking forward to seeing these new machines in person and giving them a run. Check out the photos to see a selection of promising products. For a complete listing, and for more information, visit the Baileigh Industrial website.
Have you had experience with Baileigh Industrial machinery? If so, let us know in the comment section at the bottom of this post.
Entry-level cabinet saw, model TS-1040E-50, $1,595
Riving Knife Table Saw, model TS-1040P-30, $2,095
14 in. bandsaw, model WBS-14, $1,595
Jointer/Planer, model JP-1250, $2,095
Benchtop Lathe, model WL-1220VS, $695