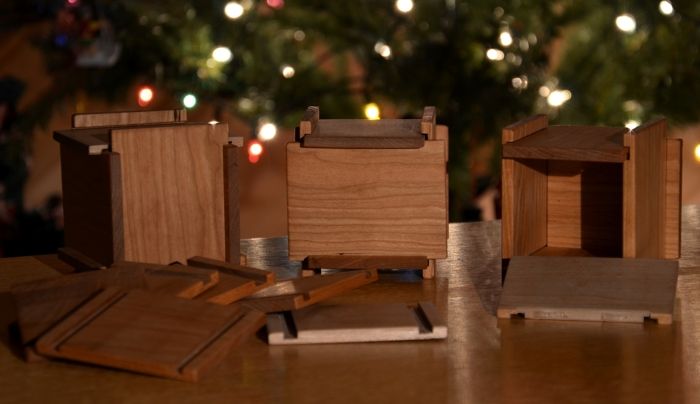 Last weekend I spent a little time in the shop and made some little boxes to use as Christmas gifts. They are based upon a puzzle bank I found in the book Puzzles in Wood by E. M. Wyatt, published in 1956. I wanted these to put gift cards in and, with the dimensions given in the book, the box was a little too small. I made a quick model in SketchUp and from there is was a simple matter of adjusting the size of it so a gift card would fit in diagonally. The box is made of six pieces identically sized so resizing it was done using only the Move and Push/Pull tools.
Armed with the dimensions from my revised model, I headed to the shop and banged out four of these boxes very rapidly. Actually I made five of them. Theese boxes as shown in the book are designed to be a little difficult to assemble and once assembled, nearly impoosible to disassemble without destroying them. I managed to put the first one together as designed. It probably won't ever come apart. I didn't want the recipients of these boxes to have to destroy them so I modified the lids a bit so they will come apart.
Here are the other four boxes with the one in the foreground entirely disassembled.
My father-in-law passed away last week and when my wife saw these boxes she asked if I could do a larger one to contain his remains. He was a math teacher and liked puzzles so she thought this might be something he'd appreciate. With a few minutes of tweaking in SketchUp I had resized the puzzle box to fit the container. We'll probably have his name and the dates of his birth and death laser engraved on the front panel.
While I was playing with this in SketchUp, it occurred to me that for those who are new to SketchUp, it could be a good exercise in learning to use the Move tool. I've put a copy of the SKP file on the 3D Warehouse which you can download. The file consists of a single component so you'll have to make copies and move them around to assemble the box. You can put a slot in the top of the box to make it a coin bank if you'd like.
Happy holidays.